Would you want to store your medical records online?
Online health diagnostics are continually growing in popularity, and here in the UK, we're able to take advantage of valuable information sources such as the NHS Direct website.
Google, however, has plans to take things a step or two further with its newly announced Google Health beta, an online service that vows to store and manage all of your health information in one central place.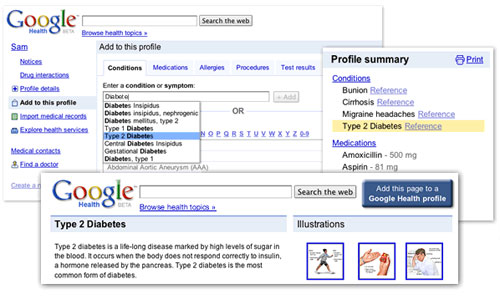 Now available online, Google Health allows users to build online health profiles, import medical records, learn about health issues, search for doctors and connect to online health services - the only requirement, is a free Google account.
Though Google's entry into the web-based health records market is the latest, and most publicised, it isn't alone. Microsoft, one of Google's fierce competitors, runs a similar service in the form of its HealthVault beta.
Google, Microsoft and others, are all hoping to capitalise on a growing consumer desire for online health information, and features such as Google's drug interaction alert, might be key in attracting users. Once you've entered which drugs you're currently prescribed, Google Health's drug interaction alert will warn of any potential conflicts.
The trouble with online medical information services, however, lies with privacy. Google states: "We believe that your health information belongs to you, and you should decide how much you share and whom you share it with. We will never sell your data. We store your information securely and privately."
Despite its reassuring privacy policy, many users may be wary of sharing their personal health information with a web-based service.
How do you feel about Google Health? Would you be willing to share your health information with the service? Share your thoughts in the HEXUS forums.
Official website: google.com/health