Solutions Research Group highlights digital lifestyle of American women
Guys out there believing themselves to be the tech-savvy member of the household are being edged out by their female counterparts, according to the Women and Digital Lifestyles report released by Solutions Research Group.
The US-based report highlights that women are in fact becoming geekier than men. It states that more women stream TV shows from network TV sites than men and that women use their household DVR more than men.
So, women like to watch a lot of TV, but we knew that already, right guys? Well, TV isn't all that our feisty vixens are taking over. According to the report, our beloved gaming is at risk too, it states that 70% of women surveyed played a PC game in the last month, as opposed to 69% of men.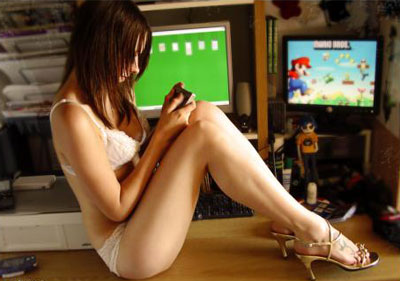 Fortunately, consoles are still our own. 50% of men were found to play a console game in the last month, only 38% of women could claim to have done the same. Though, we're fearful that Nintendo's Wii is closing that gap quicker than we'd like.
Social networking, as you'd expect, is where the girls come out in force. 42% of online women are said to have visited a social media site in the last month and similarly, women were found more likely than men to transfer photos from their digital camera to their PC.
What do you think dear readers? Guys, are you, like me, finding that your partner now ties up all the gadgets you'd originally purchased for yourself? Girls, do you agree with the reports findings?
Men are commonly referred to as the TV-watching, game-playing, web-surfing, couch-potato slobs. Watch out ladies, that'll be your title next!
Official press release: FEMMA GEEKS TAKE CHARGE