British Airways cancels 34 flights, and counting
As expected, some 250 protesters against further airport expansion were on hand today to make their voices heard on Heathrow T5's opening day.
The protesters however weren't the only problem marring T5's first day in operation. By 2pm this afternoon, British Airways, the only airline to currently use Heathrow's new Terminal 5, was forced to cancel 34 flights due to reasons British Airways simply described as "teething problems''.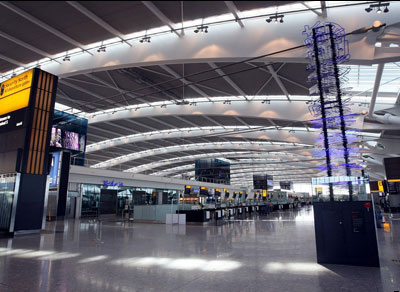 In addition to flight cancellations, those who were able to travel faced extensive delays in collecting their baggage. BA blamed these delays on "staff familiarisation" but those left waiting for hours weren't impressed. Reuters journalist, Mark Jones, found himself sat on a plane for a whole two hours.
"At one point the luggage was returned to the terminal because the system said our flight had already departed," said Mr Jones.
The BBC also reports that one passenger, Matt Duffy, a wheelchair user, struggled to find disabled access to the terminal.
"I couldn't even get into the building without getting up a step. It is totally unbelievable as far as I am concerned," said Mr Duffy.
It has proven to be a long hard opening for Terminal 5. Flight cancellations, baggage delays, poor disabled access, car park payment problems, a broken down escalator and various protests are just some of the issues highlighting the scope of the project and the work needed on the opening day.