Pyjama Warmer, now I have seen it all!
Available from Solutions.com, the Pyjama Warmer aims to "take the brrrrr out of slipping into your winter jammies".
Priced at $34.95 and available now, the official product description reads:
"Do you love slipping into warm clothing just out of the dryer? You don't need to waste money running a dryer just to enjoy that pampering treat. Just place clothes...or your bath towel inside this pyjama warmer and it comes out toasty warm after just 10 to 15 minutes."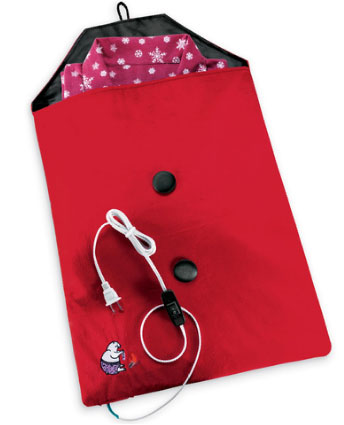 Features:
Soft fleece electric pouch
Satin lining
2 Buttons
Fold over flap with black cotton cord
Polar bear embroidered on front
On/off switch on power cord
Warms in just 10-15 minutes
Measures approx 19½"L X 16"W X¼"D
Instructions included
Gross weight 1 lb 10 oz.
Made in China
Now I love warm feeling clothes as much as the next person but whatever happened to putting them on the radiator for a few minutes? Though, I might just be swayed if they issued a USB powered version.
Source: Solutions.com