At COMPUTEX, Compro announced the release of its first Microsoft-Vista-certified MCE remote handset along with the two all-new TV-tuner products that will include the controller in pack.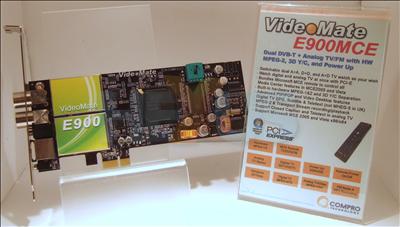 One is the E900MCE, a PCIe card with two DVB-T digital TV tuners and two for analogue TV, plus FM radio support.

Like some recently announced cards from competitors, the E900MCE uses the latest NXP SAA7164E chip. This provides hardware support for MPEG-1 and MPEG-2 decoding and for 3D Y/C separation.

The E900MCE also supports remote control on/off from S3, S4 and S5 power-states. Support for MHEG-5 is strangely lacking, though, so it won't be possible to use interactive services such as BBCi or Digital teletext in the UK.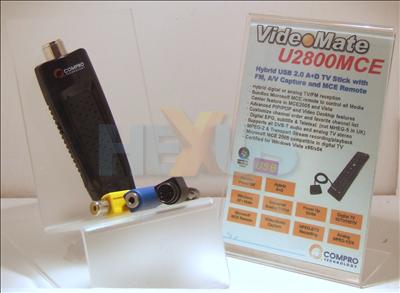 Second newcomer is the U2800MCE USB-stick with DVB-T and analogue tuners (including FM radio) and support for video-in.

Unlike the E900MCE (and most likely due to power/heat concerns), the U2800MCE doesn't provide hardware MPEG-1/2 or 3D Y/C separation.

Although using a different chipset from the E900MCE, MHEG-5 support is still lacking but it's good to see remote control on/off still present, albeit (most-likely due to the use of the USB interface) only available in S3 or S4 power states.

E900MCE should be available from August but the arrival of the U2800MCE hasn't yet been revealed.