When RIM announced the PlayBook last month, it refused to give any live demos. Even the units available for the press and developers to look at were locked away inside glass cabinets playing looped videos. Now though, company CEO Mike Lazaridis has taken to the stage to give a sneak peek at what the device can do at Adobe's MAX conference.
Lazaridis can be seen flicking through the pages of the OS in a way that looks fairly reminiscent of the webOS interface. Unfortunately, while the motion of the screen was smooth, the response of the touchscreen seemed to be a little laggy. Of course, the tablet isn''t set to launch for some time, giving RIM plenty of opportunity to tweak the performance - which shouldn't be hard, given how much power it's supposed to have.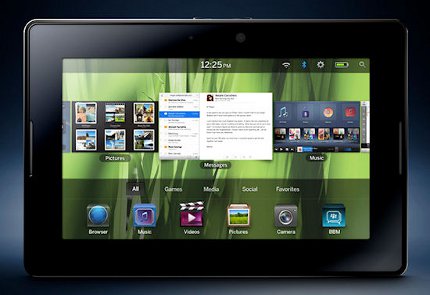 Being an Adobe presentation, Lazaridis obviously took the time to give a demonstration of the PlayBook's Flash capabilities. The device will ship with Flash 10.1, meaning that HD-video playback from within the browser shouldn't be a problem. In fact, the CEO navigated to YouTube - live, over the in-house WiFi connection - where he played back a high definition PlayBook launch-video on the device.
The tablet will also boast support for Adobe AIR from the get go, which - combined with Flash support - is promising to make development for the platform very easy - a fact that a few devs have already attested to.
It's nice to finally see a live demo of the PlayBook. However, while the device looks promising, it seems pretty clear that RIM has a bit more work to do before it's ready for the public.