Two of the frontrunners in the lucrative e-book market - Amazon and Barnes & Noble - have slashed the cost of their available e-reader devices.
Making the first move, Barnes & Noble cut the cost of its 3G-enabled Nook from $259 to $199, whilst also introducing a Wi-Fi-only model priced at $149.
Just hours later, Amazon responded by lowering the price of its second-generation Kindle reader by a substantial $70, taking the asking price from $259 to $189.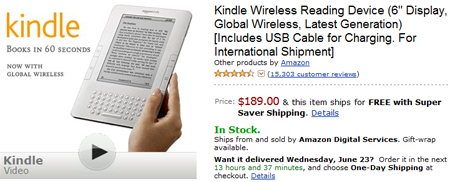 Despite the head-to-head rivalry, analysts have suggested that the respective price cuts may be a direct response to newer competition from the likes of Apple's iPad.
Having sold over two million units in 60 days, Apple's tablet-turned-e-reader has rapidly taken claim to a sizeable chunk of the e-reader market. The company's marketshare is expected to grow as its own e-book marketplace - dubbed iBooks - becomes available to iPhone and iPod users with the launch of a new mobile operating system.
Following today's price cuts, both the Amazon Kindle and Barnes & Noble Nook are now priced at less than half the cost of an entry-level iPad. At launch in November 2007, Amazon's Kindle was priced at $399.