Nvidia has published a blog post about its partner projects that featured at the recent Goodwood Festival of Speed, a global racing event that attracts 200,000 attendees to a stately home in West Sussex, England every summer. Of course there were plenty of old school classic race cars on show, but Nvidia partners showed off vehicles packed with the latest in automotive technology, leveraging Nvidia Drive and various AI, 5G and Compute hardware and software.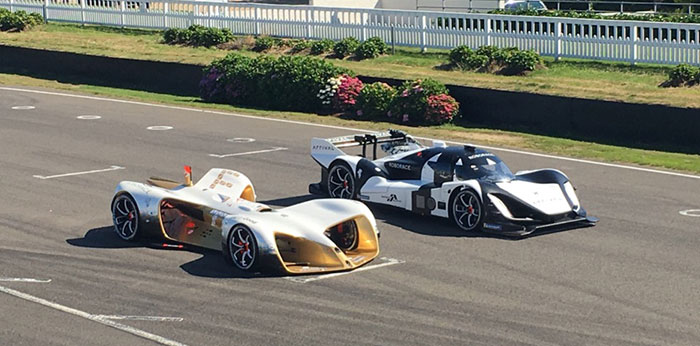 Roborace
Nvidia partner Roborace was at Goodwood last year and demonstrated the world's first ever autonomous hillclimb. This year it was back with the Devbot 2.0 autonomous vehicle which can still drive autonomously but includes a cockpit for a driver/passenger.
In the video above you can see YouTuber Seb Delanney drive the DevBot partway up the course before exiting, and the vehicle just gets on with it and completes the hill climb on its own. Nvidia says that the Devbot 2.0 vehicle uses an array of sensors plus the Nvidia Drive platform and reached speeds of 60mph on the winding uphill course.
Designated Driver
Teleoperation startup Designated Driver drafted in help from champion drifter Vaughn Gittin Jr. for its demonstration at Goodwood. Gittin didn't even have to leave his desk chair as he controlled the Lincoln MKZ using a virtual reality headset, and driving controller, at a separate location on the estate.
Samsung sponsored this 'virtual reality car' with communications powered by the Samsung Galaxy S10 5G and the Vodafone 5G network. It added that a Samsung VR headset was used by the control system. Meanwhile, Nvidia technology on board allowed the car to process Gittin's controls at a latency of under 70ms, making fluid control possible for Gittin's drifting and subsequent hill climb drive.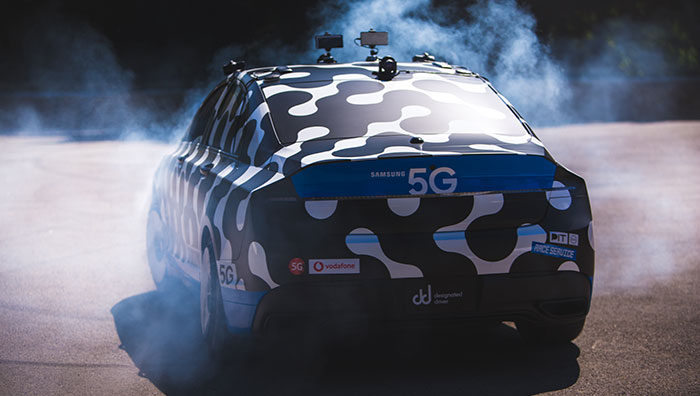 Other partners

Nvidia also highlighted the all new Porsche Taycan EV, the Volvo Polestar 2 performance EV, and the futuristic Kar-go battery-powered delivery vehicle, pictured below, powered by Nvidia Drive.