Nvidia SHIELD Android TV
Nvidia has announced that its SHIELD Android TV console will become available in Europe from tomorrow. From Thursday, 1st October, European customers in U.K., France, Germany, and Scandinavia will be able to purchase the device. Select retailers, like GAME in the UK, will stock the 'console' and you will also be able to pick it up online at the Nvidia SHIELD store, for example.

The Nvidia SHIELD TV is powered by the company's Tegra X1 processor. Nvidia claims this makes its set top box contender "3x faster the new (2015) Apple TV, 25x faster than Roku 3, and 8x faster than Fire TV". The device comes with a MicroSD slot, and USB 3.0 ports for expandable storage and the base model has 16GB of built-in storage. Nvidia also sells a PRO model with a 500GB HDD installed.
With its fast processing, modern Android TV OS and Google Cast compatibility Nvidia thinks that its box is the smartest smart TV add on you can get. Looking at what services it can handle, most popular viewing/streaming apps such as Netflix 4K and YouTube 4K, YouTube, KODI (XBMC), and PLEX are supported. The box also boasts support for 10-bit colour and Dolby 7.1 surround sound.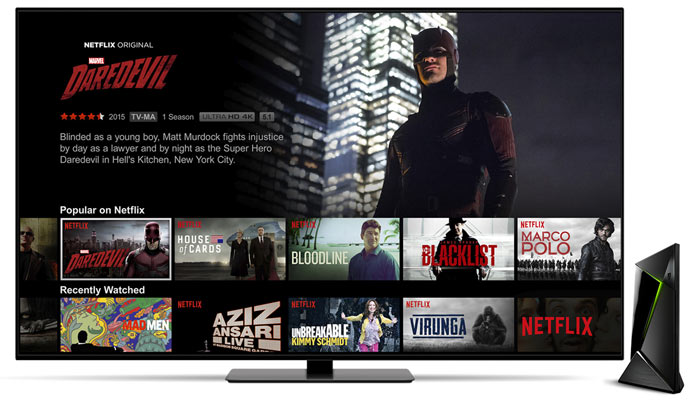 On top of the above cinematic entertainment you get a healthy dollop of gaming capabilities thanks to the easy installation of Android games, the specially enhanced Nvidia SHIELD games (about 300 of them to choose from) and the GeForce NOW games streaming service - also launching in Europe tomorrow.
Nvidia GeForce NOW
GeForce NOW is an important USP to Nvidia. A subscription to this service allows the user to enjoy 'instant' games streaming of a choice of popular PC titles "at up to 1080p and 60fps". The subscription allows users to enjoy more than 50 games that they may or may not own on other platforms.
Titles such as The Witcher 3 and Resident Evil: Revelations 2 are included in the service and other titles can be purchases and played instantly via the online game store. The GeForce NOW cloud gaming service is powered by six strategically located Nvidia data centres around the world.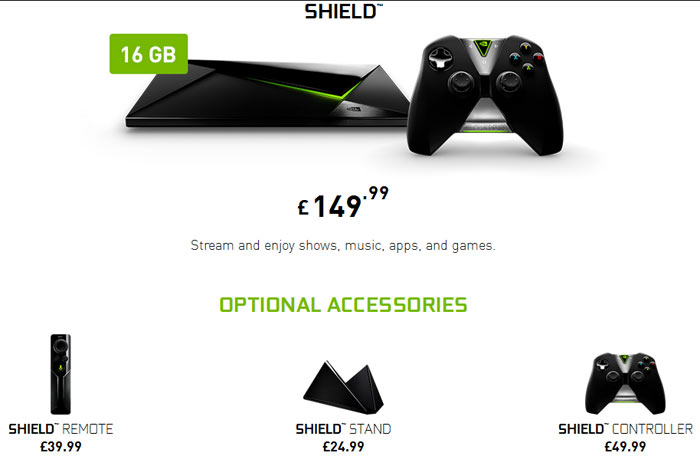 Pricing and accessories
Nvidia is making a range of accessories available to help improve the entertainment and fun value of your SHIELD TV. HEXUS was emailed an updated price list just a few minutes ago, see below, earlier reports that aren't updated will be incorrect.
| | |
| --- | --- |
| Product/MSRP | Sterling £ |
| Shield ATV Base (16G + Controller) | £ 149,99 |
| Shield ATV PRO (500G + Controller) | £ 219,99 |
| Shield Wireless Controller | £ 49,99 |
| Shield Remote | £ 39,99 |
| Stand | £ 24,99 |
| | |
| GeForce NOW | £ 7,49 |