The term 'diversity' might not currently mean much to you in a technical sense but it's something that can make a huge difference to the reception of digital TV and is starting to be offered by a number of firms selling PC TV tuners, the latest being Terratec, with the Cinergy DT USB XS Diversity.

This, you may have already guessed, is a USB 2.0 stick model. Price is £100 and this gets you TerraTec's Home Cinema software, Ulead's DVD MovieFactory 3 TV app and support for Windows Media Center Edition as well as XP SP2.

A Mac OS X variant for Apple computers is also promised and this will cost £115 and come with Elgato's rather splendid EyeTV software (see this review for more about EyeTV).

Why diversity technology makes such as big difference is that enables you to watch digital TV in places where a weak signal meant that wasn't possible before - digital TV being all-or-nothing.

So, it can let you watch TV in areas where Freeview TV reception would otherwise be too poor and also in places around the home in decent reception areas where there's no roof-top aerial outlet and the TV signal picked up by a single ordinary portable aerial would have been too far degraded by its passage through the building.

This seemingly magical trick of providing good reception where it didn't exist before is possible only by comparing the signal from two aerials and, in effect, throwing away the bad and keeping the good. The catch is that diversity requires a TV receiver that has two tuners, each connected to a different aerial.

However, Terratec's newcomer is, naturally enough, a twin-tuner product and comes with a pair of aerials in-pack. The same, of course, is true of current diversity competitors and those likely to be arriving soon.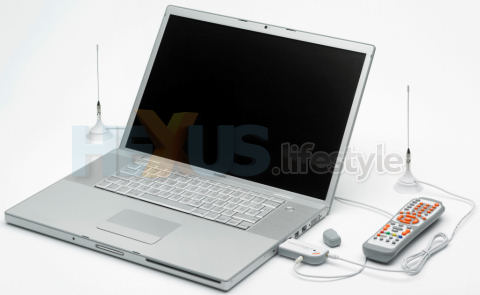 Diversity technology is so good - presuming it's well implemented - that it even lets laptop users watch TV while travelling on trains, coaches or in the back of cars.

And, in areas of decent reception, the two tuners aren't wasted - they let you record one programme while watching another - and, doing that, you can feed the two tuner inputs from a single aerial if you wish.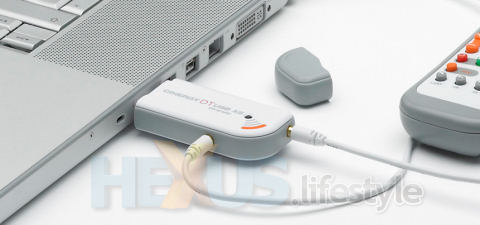 Contrary to the claim in Terratec's launch announcement - which you can read over in HEXUS.lifestyle.press.releases - the company is not, we think, the first to "have" diversity technology. And it's certainly not the first to tell the world about its diversity offering.

As we reported over a month ago, Elgato has a Mac diversity twin-tuner USB stick based on Hauppauge hardware, the £100 EyeTV Diversity. On the Windows front, Pinnacle has the PCTV Hybrid Pro Stick for Windows, pitched at £90 and, we think, also using Hauppauge kit.

Hauppauge itself is, of course, going to be selling a diversity product under its own brand. We saw a prototype working at the IFA show in Berlin in September, but still don't know when it will be arriving in store but we've been promised that info

very

soon.

Our guess, though, is that Hauppauge has had to agree to let the firms it's supplying on an OEM basis have a clear run at the market - with Elgato covering the Mac side and Pinnacle Windows - but that any such deals will allow it to launch its own version before Christmas.

One genuine disappointment, though, is that we've not yet seen any Freeview set-top boxes or TV sets that use diversity technology to improve reception.

We've no doubt this is being worked on and would like to think that, in a year or two, diversity will be a standard feature.

But, right now, we're presuming that the processing power need to do this job is far too expensive to use in set-top boxes or tellies.

TerraTec says that the PC system requirements, in addition to Windows XP SP2 or MCE, are:



* Intel Pentium 4 / AMD Athlon XP / Centrino CPU of 2GHz or higher
* 512MByte RAM



In addition, the Windows version also needs:



* One free USB 2.0 port
* Audio hardware with DirectX support
* DirectX compatible graphics board and video overlay support



Hopefully, though, dedicated integrated circuits that carry out diversity calculations are being worked on right now and will be cheap enough for general use by consumer electronics makers if sold in large numbers.

For the record, the Terratec stick is promised to come with the following goodies:



* Two portable aerials with magnetic bases and suckers

* Two aerial adapters (MCX to IEC)

* A 48-key remote control

* A USB 2.0 extension cable

* Quick Setup Guide

* Service card

* Registration card

* Installation/software CD with:

* Software: TerraTec Home Cinema, Ulead DVD MovieFactory 3 TV

* Registration code for one-year Premium account with tvtv [

online programme guide - Bob C

]

* On-disc manual



Care to share you diverse thoughts with us? If so, dive over to this thread in the HEXUS.lifestyle.news forum.

HEXUS.links
HEXUS.community :: discussion thread about this article
HEXUS.lifestyle.press.releases :: TerraTec Cinergy DT USB XS Diversity - watch TV anywhere even in a train or car
HEXUS.lifestyle.headlines :: Elgato promising in-car TV reception at over 100mph!
HEXUS.lifestyle.reviews - Mac mini Core Duo (with coverage of Elgato EyeTV 2 software)
HEXUS.net :: All IFA 2006 coverage

External.links
Elgato - EyeTV Diversity
Hauppauge UK - home page
Pinnacle UK - PCTV Hybrid Pro Stick for Windows
Terratec UK - Cinergy DT USB XS Diversity
Terratec UK - specs for Cinergy DT USB XS Diversity
Terratec UK - home page