We all managed to miss one of the most intriguing products shown at the recent Las Vegas CES - Sanyo's wonderfully-named Xacti HD1 tapeless high-def camcorder. Mind you, the camcorder is so titchy small that it's a bit of a surprise anyone at all spotted it.

Sanyo describes it as, "The world's smallest and lightest high-definition digital media camera". We think the company might be right. The Xacti measures just 79(w)x119(h)x 36(d)mm and weighs in at a mere 235g. That includes a battery and an SD memory card on which the Xacti can record 720p (1280 x 720) HD video in MPEG-4 format and 5.1 Megapixel stills - simultaneously (given the right still-shooting options), according to Sanyo!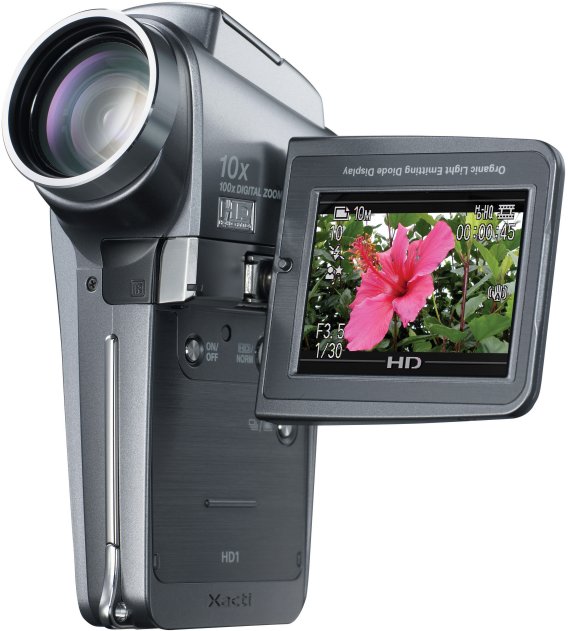 It's due on sale in the USA in late March at a suggested price of $800. There's no clear idea of when it's coming to the UK or at what price. We'd hope, though, that the VAT-inclusive figure will be £540 or less.

Among other items on the HD1's sales sheet are a 10x optical zoom lens; a 2.2in flip-out colour monitor; a four-mode, "double-brightness" pop-up flash; a digital image stabiliser and voice-recorder capabilities. The lens has a neutral-density filter and a pretty respectable claimed maximum aperture of F.3.5 at at each end of its zoom range. The screen uses OLED (Organic Light-Emitting Diode) technology developed by Sanyo and is reckoned to offer wide viewing angles paired with a response time that is up to 5,000 faster than more commonly used display technologies

Sanyo says the Xacti HD1 can record over 21 minutes of 720p HD video on a 1GB SD card but more than twice that amount if opting for standard def (640 x 480) capture at 30fps progressive. Clearly, owners of HD1s are going to need a number of large-capacity SD cards and that's not good news given that, although card prices continue to fall, larger-capacity models tend to lag behind smaller cards.

Also on the camcorder's features list are one-handed shooting, red-eye reduction mode, lithium-ion battery, compatibility with PictBridge printers (for PC-free printing), a multifunction docking station and an IR remote handset. A large-capacity SD card, though, is not included. There is, however, an S-video output along with a USB 2.0 socket for computer connections - the HD1 being said to be compatible with Windows and Mac PCs.

For more details specs, check out the HD1 page on Sanyo's site.

And don't forget to let us have your thoughts on the pluses and minuses of this little fella by joining in the Xacti-yak over in the HEXUS.community.