Live from the BBC Event in London, UK
Bullseye! Aided by BBC Radio 6's leak, the rumour-mill scored a perfect hit with its prediction that Apple would today unveil a video-capable iPod portable player.
The new model - called simply the iPod and slimmer than the non-video "wide" iPod it replaces - is due in store (and for sale on the net) the weekend after next. It will be available in black, as well as white, and in two hard disk capacities – 30GB for £219 (inc VAT) and 60GB for £299. Each uses a 2.5in TFT screen running at a resolution of 320x240 pixels and in 260K colours, and has H.264 and MPEG-4 video support.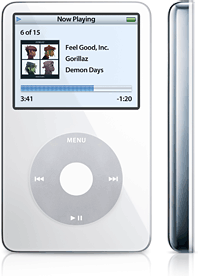 Even more significant than the video iPod is the fact that over 2,000 music videos are said to be immediately available for download - though at a price, of course. Each is a single track and pitched at £1.89 in the UK; $1.99 in the USA; and Euro2.49 in Finland, Germany and Ireland.
To go with, there's a new video-capable Mk6 version of the iTunes media-manager-cum-media player that's ready for download right now. iTunes 6 is needed if you want to buy and download videos from Apple or buy video or music files to give away as presents - another new feature in V6.
A video-playing iPod has long been anticipated, but does that QVGA display provide a high enough resolution for movie viewing on the commute to work? Well, in the flesh - though under artificial lights, rather than daylight - the picture quality we saw was pretty good. But that will be party because the videos had been encoded professionally to a very high standard - so we're curious to see how good home-encoded footage looks.
Worryingly, the two iPods we managed to get hands on with at the UK launch event (at BBC Television Centre, London) struggled to play footage without dropping some frames and had an even nastier habit of switching right away from the videos that were being played.
Another concern is with digital rights management and copyright issues, though the agreements Apple seems to have in place with its video suppliers aren't quite as restrictive as they might be. Videos that Apple is selling can be played any number of times on five computers and any number of iPods, too.
An optional (read: chargeable) cable lets you play video out from an iPod to a TV set but we're reserving judgement on how iPod QVGA footage looks on a telly until we see it running under our own control. The hands-on area at the Beeb didn't include any TV sets and the demonstration that was given - by Steve Jobs via satellite link from San Jose, California - was appearing on a massive (and we assume seriously expensive) screen. Again, though, costly professional encoding may mean that the quality on TV is rather better than you'd expect from DIY QVA footage.
Anyone considering buying movie videos the Apple way will need broadband, so it's probably of no account that the iTunes 6 Windows installer is 33MB in size. Mind you, that does include the required version of QuickTime - 7.0.3 or later – currently a 19MB download on its own. The Mac installer is "only" 14MB but doesn't include QuickTime, though V7.0.3 or later is still required – to add the video capabilities to iTunes - and is also a 19MB download.
European users of iTunes 6 can also buy six short cartoons produced by Pixar Animation Studios - another company of which Steve Jobs is CEO. Prices are the same as for music videos and, in the USA, the same is also true for five current and past TV series - episodes are $1.99 each. Current programs can be downloaded the day after they're broadcast. Three of the programmes are from the Disney-owned ABC TV station (Desperate Housewives; Lost; and a new drama series Night Stalker) and two from Disney Channel - That's So Raven; and The Suite Life of Zack & Cody.
Jobs admitted in his presentation that the Disney/ABC deals were also made possible through strong personal relationships. We don't know what strings he'll be able to pull to get additional programming in the USA or any worthwhile TV content for European iTunes users. But, what we do know is that if the Disney-sourced programmes sell well, lots of broadcasters will be eager to get themselves on first name terms with Apple's CEO.
Video figures large in further new products announced by Jobs - a pair of fourth-generation all-in-one iMac computers, one 17in (£899), the other 20in (£1,199). These have built-in webcams - matching software is ready installed as is a fun program for taking snapshots of users and morphing them in a 101 ways prior to emailing or putting them up on the web. The newcomers are genereally better spec'd than the previous computer-in-monitor models, despite being considerably slimmer. Key improvements include double-layer DVD burners, a multi-button "Mighty Mouse" and faster G5 CPUs.
They also have wider Digital Home pretensions, thanks to the provision of a tiny wireless remote handset and a media-player front-end applet called Front Row. The way in which Front Row takes over the Mac at the press of a button is impressive, as is the way the Mac reverts to normal - and the interface itself looks a lot more elegant than that of Windows Media Center Edition.
Check it out by clicking on the image below - QuickTime required.
Trouble is, although Jobs gloated about these things and about how clunky MCE handsets look, what FrontRow and the iMacs don't have is a good few of the capabilities of MCE Windows machines, most importantly TV playback and PVR-style recording - well, not in the first iternation, but they surely won't be too far off.
Oh, and there's a new section on Apple's site, iPod your car. Unsurprisingly, the company is pushing integration of iPods into motors. Various makers, including Volvo, Mercedes and, soon, Ferrari, are on-board and looking to provide solutions for new and old cars in which you might want to stash an iPod.
So, Apple is ramping up its product range ready for some healthy Christmas sales. How many kids will have a new iPod or iMac (or one of each) on their list to Father Christmas? Of course, Apple only recently introduced the iPod Nano. This received much media hype but reportedly has screen-scratching problems that Apple hasn't yet addressed. Jobs certainly didn't address them but what he did do is claim that a million Nanos have shipped already.
It's all well and good rolling out new products at an impressively fast rate but Apple needs to take better account of customers' concerns, otherwise it risks damaging its reputation. Presumably, though, workers in the company's use-and-abuse test labs have been clocking up the overtime - along with those who've created these new goodies - but we'll let you know if that assumption turns out to be false.