Born from a licensing agreement with Nokia to obtain the firm's tech, Vuzix has announced that it plans to demonstrate new see-through HD SMART Glasses at this year's CES.
The new glasses will be presented in a lightweight and stylish plastic sunglasses-like frame, which will enclose 1.4mm thick plastic waveguide lenses that contain input and output holographic structures on the surface, enabling high-contrast and bright light to travel along the waveguide and unwrap back into a two dimensional image, resulting in an image that's mixed into the real world. When developed, the technology should be able to fit into the temples and lenses of a conventional pair of eyewear.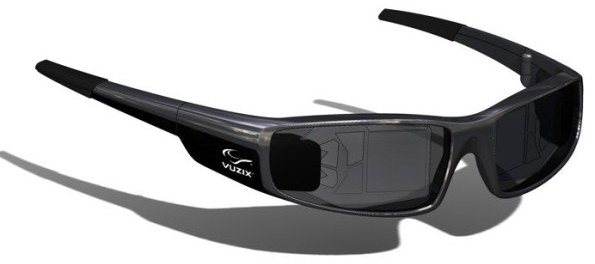 The technology is said to work in both full daylight and at night and the idea behind the SMART terminology is that these glasses are designed to work with SMART devices that can allow for merging of virtual information with the real world. Unlike existing Vuzix technology, these displays are transparent when active and don't involve bulky projection technology that results in large and uncomfortable eye-wear. Unlike the image displayed above, as the technology progresses the plastic waveguide could see itself covering the lens perfectly, creating a seamless Augmented Reality experience; the firm now needs, perhaps, to focus on its integrated camera technology, so that SMART devices can also process visual information from the real world for some really smart behaviour, though, no one wishes to see the product turn out like the company's current AR offering, which features rather intrusive front cameras and bulky displays.