Want to make your fancy 30in 2,560x1,600px monitor feel inadequate? Try 7,680x4,320px.
That's the resolution that the BBC broadcast a live Charlatans set to Japan at as a part of a technology demonstration with NHK - Auntie's equivalent in Tokyo. The technology is called Super Hi-Vision (SHV) and the R&D team at NHK are working hard to make it a reality within the next decade.
The audience in Japan was able to watch the set in its high-resolution glory on a giant screen, though English fans had to settle for a state-of-the-art 103in plasma TV at Television Centre. Even this prototype panel was only capable of showing a quarter of the resolution of the SHV broadcast.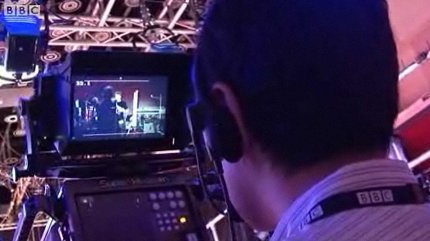 The recording equipment is also in the development stage, and the camera used by the BBC is one of only three in the world. Though the chip used to capture the picture is fairly ordinary - resolution aside - the lenses had to be custom built, as traditional lenses weren't sharp enough for the sensor.
Of course, transmitting this much data was a challenge in itself, and this is what the researchers at the Beeb's R&D labs have been working on. As well as developing some advanced compression-algorithms, they combined multiple high-speed internet connections across the planet to create a single 350Mbps link. Because of the massive amounts of bandwidth required, satellite broadcasts were prohibitively expensive, forcing the team to look for another option.
While we can't expect to see this sort of technology in our homes any time soon, the BBC is suggesting that the cameras may be used during the 2012 Olympics to broadcast the games to large screens in public areas.