OLED has been promised as the display-tech of the future for some time, but with the exception of one or two very expensive examples, it's failed to materialise outside of the smartphone market. However, LG, manufacturer of the world's largest commercially available OLED-screen - the 15in 15EL9500 - seems bent on bringing the technology into consumer hands.
Around the halls of IFA, the company is showing-off its latest prototype, and it certainly is a looker. The 31in screen finally brings the tech up to the same kind of size as other HDTVs, but its depth puts it in a class of its own. At 2.9mm thick, the company is claiming that this is the thinnest TV in the world - taking the title from its 15in model by only 0.1mm.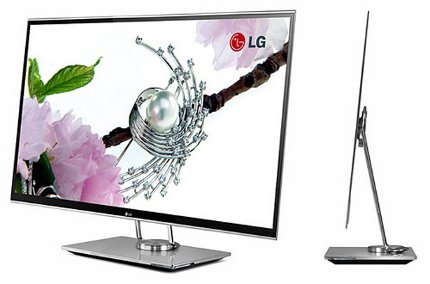 Being a prototype, the manufacturer wasn't too forthcoming when it came to the specifications, but we do know that it has a Full HD 600Hz-panel that can handle both 2D and 3D content.
Of course, being an OLED TV, you can also expect superb colour-reproduction, deep blacks, a phenomenal contrast-ratio and near 180 viewing-angles in all directions.
Even though it's an early model, LG has made it clear that OLED will be a substantial part of its future, so a similar TV could be made available before too long. However, if the screen does make it to market, you'll be able to count on the price being stratospheric. With the 15in model retailing for around £1,500, rumours of this TV costing as much as £6,000 don't seem too far off.
Update: According to Pocket-Lint, the TV is, in fact, going into production. It should be available in the UK in March 2011 and will retail for around £6000.