Big-name, recognised television manufacturers often have a competition to see who can showcase the largest working screen at CES 2010.

This year, that honour appears to fall to Panasonic, who had a 152in ultra-high-definition plasma on display.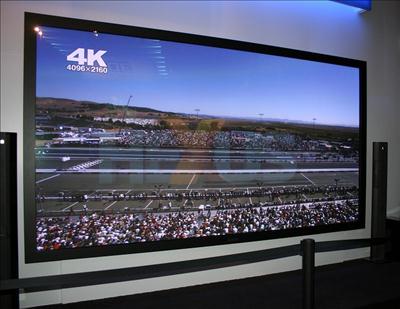 The behemoth boasts a 4K by 2K resolution - 4,096x 2,160px - and, on the evidence of what we saw, an excellent-quality picture when viewed from 10 feet away.

It's not just about willy-waving, however, as the very size of the screen intimates that Panasonic can build panels of increasing sizes.

Panasonic's representatives, however, were keen to point out that the 3D-compatible model is a strictly show-only display and mass production of this size is years off - we can't see too many people fitting one of these into the bedroom - but it's the first really 'wow' product this hack has seen at CES 2010.

Hands up, who was a living large enough to do it justice?