Immersive surround-sound experience with just two speakers and a sub?
Logitech's latest set of 2.1 speakers, the Z Cinéma, claim to offer an immersive surround experience with just two satellite speakers and a subwoofer.
Yet, the recent trend toward clutter-free 2.0 solutions forced us into asking Logitech why it doesn't yet have a successor to its Z-10 2.0 system. The answer? One of puzzlement. Sarah Waldman, Logitech's Regional Product Manager agreed that 2.0 systems are proving to be increasingly popular and though gamers once demanded a subwoofer, they themselves now lean toward the use of a headset.
Tidy, clutter-free 2.0 solutions are now a popular choice among consumers and with Creative launching 2.0 speakers at will, are Logitech going to be left ruing a missed opportunity?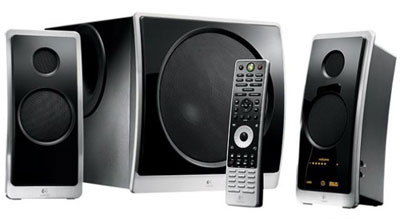 Nonetheless, despite Logitech seemingly overlooking the 2.0 market, the Z Cinéma speakers pictured above are very easy one the eye. The Vista-capable remote in particular is nice to use and surprisingly feature packed.
The Z Cinema's key features, as described by Logitech, are:
Surround sound without rear speakers: Experience surround sound with only two satellite speakers and subwoofer. SRS® TruSurround HD™ puts you in the middle of a broad sweet spot, creating an immersive sound experience. Dialog enhancement in the centre channel ensures clear and intelligible voice reproduction.
High-performance audio: Unique tri-amplification design and digital crossover EQ provide greater accuracy and a more natural, balanced response. Two-way satellite speakers deliver incredible frequency response, detail and clarity. A 20 cm long-throw subwoofer with flared bass port gives you powerful, distortion-free bass.
Pure digital fidelity: USB transports both audio and data for simple, hassle-free installation and true 24-bit digital quality audio.
Multiple input and output options: Includes a headphone jack for private listening and an input jack for connecting an MP3 player or other audio sources.
Powerful Media Center remote control: An advanced remote turns your PC into an entertainment center. Take full control of Windows® Media Center and easily manage digital media—including Internet radio and playlists—with your other media applications.