Once again, Tarinder Sandhu, David Ross and Nick Haywood took time off from the serious business of putting out a daily newspaper at CES to check out the Adult Entertainment Expo. Is NO sacrifice too great for this heroic men?





Your local on-the-scene reporter at the International Consumer Electronics Show made what used to be a side trip but which, this year, was just a step across the hall, to visit the annual Adult Video Expo - traditionally held in Las Vegas on the same dates as CES.

The difference this year is that CES - with some 2,500 exhibitors taking up 1.65m net square feet of display-only area - had outgrown its traditional venues, including all three halls of the Las Vegas Convention Center, the adjacent Vegas Hilton convention area and the Alexis Park, home of the esoteric (read excessively expensive and powerful) hi-fi exhibit.

So it spilled over into about half of the Sands Expo Center where it shared space with members of the X-rated video community for the first time in nearly 20 years.



and the International CES. There were some complaints from CES

exhibitors but no one from the porno group seemed to mind


The adult video producers were way ahead of Hollywood when it came to selling movies for playback on the then-new home VCRs, and had major displays at CES in the early 1980s. To offset the complaints of the wives of the executives of some of the more important members of the show's sponsor - the Consumer Electronics Association - the X-rated exhibits were first fenced off, then moved to a secondary location. They were then convinced to split off from CES in about 1987 to hold and sponsor their own show.

In Vegas, they've been displaying at the Sands Expo, about two miles from the LVCC. Unlike the CES, the adult show allows the public in for a fee of about $30, and draws a major crowd of both male and female lookers/picture takers.

We, of course, had little to no interest in the girls on view or the films of their performances being shown on big flat plasma and LCD screens - like the show floor at CES, conventional picture-tube TVs were few and far between.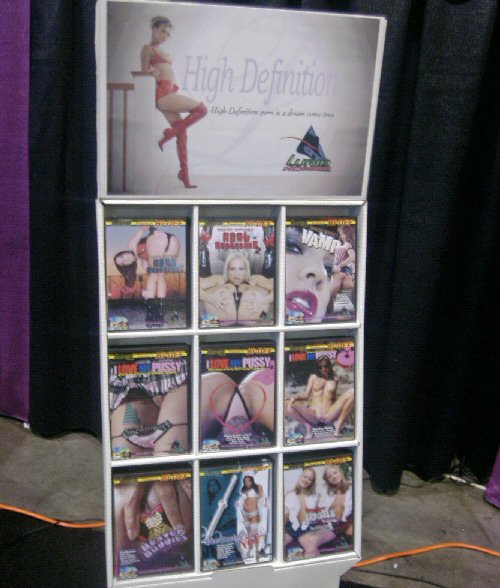 Last year, high-definition DVD was a rare novelty. Now it's practically
mainstream, though HD discs come in twin sets that include one
standard-definition disc for set-top players,
along with the HD disc for playback on PCs



Our interest was in seeing if the purveyors of porno were continuing to be a technological step or two ahead of Hollywood. And it was clear that they were - porn now is focusing heavily on internet activities, particularly in the business-to-business arena.

SurfDiscreet is a privacy-guarantee service that keeps all surfing info off your personal computer. When you go online you hook in through their servers which then let you go where you want. The company's servers store all your incoming cookies and records of site visits, so they can't ever can be found on your computer.

Ardtully Technologies offers the Rosetta Media Manager, an on-line access service that stores info about the consumers' personal digital networks and allows them to order viewable programming directly from content providers. The company handles delivery and payment collections.

Matrix Online Media goes another way. It allows businesses, either independents or adult-store owners, to set up web sites that connect customers to Matrix's selection of DVDs, toys, whatever – leaving Matrix to handle the inventory, fulfilment and collection, and providing web operators with commissions of 10 to 40 per cent

GirlFriendX is a dating service that lets subscribers download to PCs, pocket computers, iPods and Palms descriptions of girls that meet their dream profiles, helps them make contact, send messages and flowers.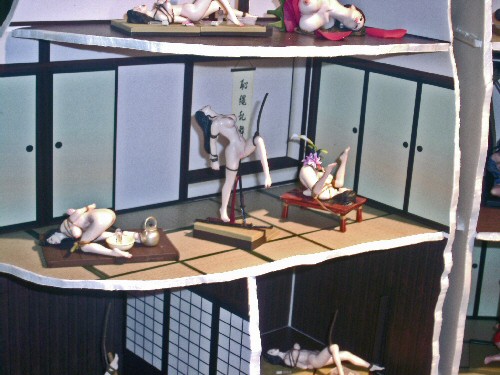 For the man whose knick-knack shelf now has almost everything, comes
Euro-Pon, Japanese miniatures that demonstrate
the ancient art of female bondage



Entice TV lets programming owners set up their own IPTV channel. "Have your unedited XXX movies on your own studio-branded TV channel" is the promotional pitch. A similar service but one which pitches educational and instructional uses, is GDBTV.

Digital Playground, in a joint venture with e-tailer Adult DVD Empire, is making full-length XXX video scenes available to owners of video iPods and Sony PlayStation Portables. And, on its own, it's started offering high-definition XXX movie trailers for viewing on iPods and PSPs.

Expect 3D TV to be coming soon to a mobile phone near you, or so says Dynamic Digital Depth. At the show, the company showed a mobile phone displaying a moving, 3D full-colour image, and said it is in negotiations to make the specially-equipped phones and programming available to consumer by the end of this year.

The company also offers a TriDef Vision+ converter box which, with a polarizing filter and glasses, turns any 2D display into a faux 3D, and produces very real 3D images generated from special 3D DVDs.

And for the man who wants to build his personal library, we have MediaToad in-store kiosks from PolarFrog Digital. Each kiosk provides access to 1,000s of XXX scenes from which the user can pick and choose and then burn a DVD. The burn process takes five to seven minutes and depends on the amount of content - so does the price.