Ofcom has completed its Strategic Review of Digital Communications, announced in March last year. In its interim conclusions, published today, Ofcom doesn't go as far as BT and its shareholders had feared - asking for a decisive split between BT and Openreach - however it has said BT must give competitors access to its infrastructure to be able to connect up advanced fibre networks to homes and offices.

In a blog post on the Ofcom site Chief Executive, Sharon White, wrote that "The UK has made good progress rolling out superfast broadband and 4G mobile. But we need to do better... The challenge is for the UK to keep up with everyone's expectations of their broadband and phones, to ensure they get the reliability, quality and speeds they need. Today's proposals are designed to achieve this."
Ofcom's recommended strategic steps to achieve its digital communications goals are summarised as follows:
the guarantee of universal broadband availability at a sufficient speed to meet modern consumer needs;
support for investment and innovation in ultrafast broadband networks (such as fibre to homes or businesses) by giving BT's competitors improved access to its infrastructure;
improvements in the quality of service delivered by the whole of the telecoms industry, including Openreach, BT's access network division;
increased independence of Openreach from BT so that it is more responsive to all of its customers; and
consumer empowerment so that people can understand the array of choices available to them and are able to switch to the best value deal easily.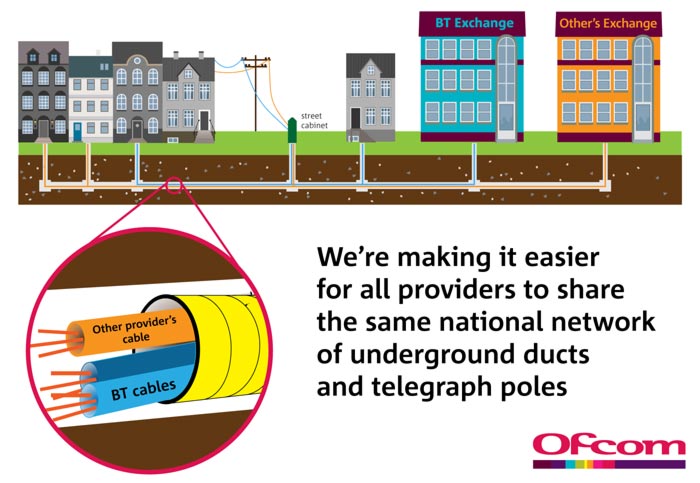 BT welcomed the Ofcom report and said that it would also welcome competitors to use its network, as the BBC notes "if they are keen to invest". BT rivals, such as Sky, Vodafone and TalkTalk, have previously complained about BT/Openreach underinvestment in modern networking infrastructure so now it seems they will be able to put their hands in their pockets to help deliver faster speeds and more reliable connections across the UK.
HEXUS received an email from a Sky spokesperson about the Ofcom decision. Sky said that it would be happy to work with Ofcom and it "looks forward to playing a positive role in helping make Britain a digital world leader." Overall though Sky's response was pretty sour. It started by saying the Ofcom report is "recognition that the current Openreach model is not working and that fundamental change is required", furthermore Sky said "BT must now be held to account for improving service and enabling delivery of fibre to Britain's homes and businesses".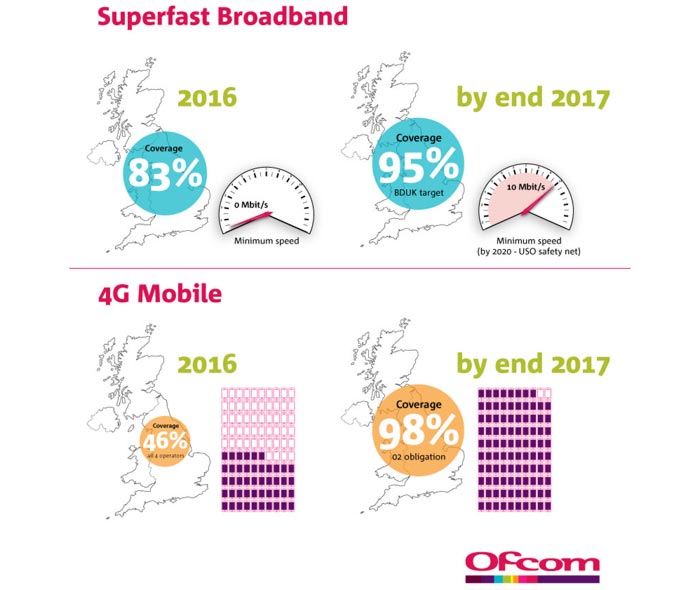 The Ofcom projections for superfast broadband and 4G availability for 'by the end of 2017' are indicated above, hopefully the industry can fulfil or even exceed them.