Sky has officially submitted a request that Ofcom consider "issues covering both competition and quality of service," in the UK's broadband industry. Reading through Sky's press release it seems that 100 per cent of its ire is directed at BT's Openreach division. Sky wants Ofcom to ask the Competition and Markets Authority (CMA) to conduct an inquiry into these wider economy impacting issues.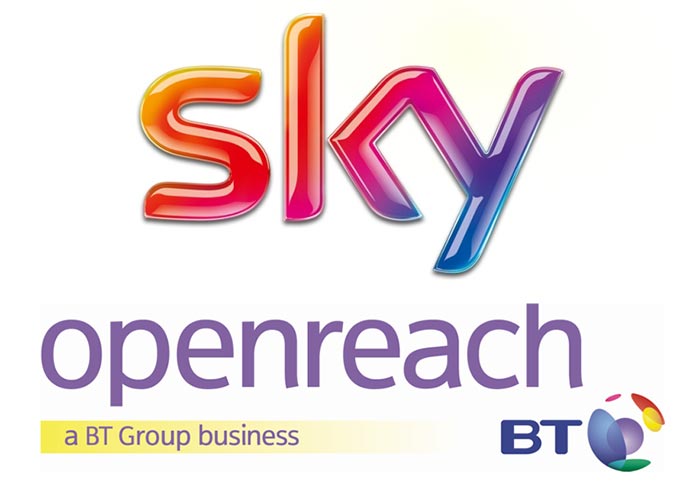 Talking about the reasons behind its call for action, Mai Fyfield, Sky's Chief Strategy Officer, said "We are drawing attention to the problems in broadband because they are important to the economy as a whole. They affect competition between providers and have a direct impact on consumers and small businesses, resulting in inconvenience, dissatisfaction and loss of productivity." Fyfield drove home the point "The UK needs to get the basics right in broadband as well as develop the networks and services of the future."
According to Sky, an entertainment company which serves 21 million customers in Europe, the UK's broadband industry is severely in need of a strategic review. It has gathered statistics and evidence that points to historic under-investment by BT Openreach resulting in "an excessive number of network faults", long waits for new installations and fault repairs and similar problems which are sometimes simply never addressed.
Sky says that its business accounts for about a third of Openreach's broadband supply. Looking at the impact on the economy, it says that if its own data concerning missed appointments was replicated across the market, and if people took a day off work to wait for an Openreach engineer, the UK would lose 18,000 days of work per year.

Key issues with the UK broadband industry, as highlighted by Sky, are as follows:
More than 90% of new line installations, which require an Openreach engineer to attend, take 10 calendar days or longer. Almost one in ten installations takes longer than 30 days.
Openreach changes the agreed installation date for Sky customers on average around 36,000 times a month.
Openreach misses over 5002 appointments each month to install new lines for Sky customers and fails to complete a further 4,000 jobs per month.
Fault rates across Openreach's network increased by 50% between 2009 and 2012, the last year for which reliable data is publicly available.
Openreach's performance in fixing faults is consistently below the targets set out in agreements with service providers.
It will be interesting to see what Sky can achieve with this move. It wants to see action "as soon as possible" to make sure the vital issues facing the UK's broadband are sorted out. Can it force the hand of Openreach to invest more in the 'last-mile' or 'access' copper infrastructure which it says is the root of many of the problems?