Comet will close all its remaining stores tomorrow, Tuesday 18th December. Around 6,600 jobs will be lost as the electrical retail chain folds. It remains possible that the administrators will find a buyer for the Comet website and that Dixons will buy some of the stores in complimentary locations to its own chain stores. Dixons (DSG Retail) has already hired about a thousand former Comet staffers to bolster its workforce over the busy Christmas period, also 200 Comet white goods repair people have become permanent at DSG.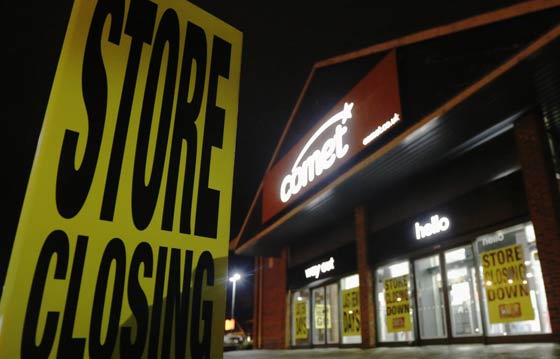 At the beginning of November we heard that the administrators had been called in, in the shape of accountancy firm Deloitte. Comet was founded in 1933 as "Comet Battery Stores" and until recently ran a large ecommerce website and operated over 240 large electrical stores.
Other fallout from the retail chain collapse is detailed by many news agencies. Many headlines focus upon the estimated £50 million bill to the taxpayer because of two things; firstly winding down sales at Comet have raised insufficient funds to pay the £24 million in redundancy payments due to the staff, secondly Comet owes about £26 million to the UK Tax Office.
Secured creditors such as backers of Comet parent company Hailey Acquisitions Ltd are due to get payments of £49.7 million while unsecured creditors will receive nothing. Among the unsecured creditors taking a hit are ITV and Google, owed £1.2 million and £602,000 respectively for advertising fees. Also it is noted by Sky News that there remain around £4.7 million worth of unclaimed Comet gift vouchers. Only 49 of the 240 Comet stores are still operating at this time.
The upcoming administrators report "is also likely to examine the circumstances of the retailer's collapse and explain why Comet eventually failed" according to The Daily Telegraph.