Since the news broke regarding round two of the patent battle between Apple and Samsung last week some interesting internal documents have been revealed. Due to legal disclosure many closed secrets from both sides of the arguments have been made public.
Apple: consumers want what we don't have
Info collected by Recode includes some slides from an Apple internal meeting held in April 2013, where outlines of its plans for 2014 and an analysis of the future of the smartphone market were provided.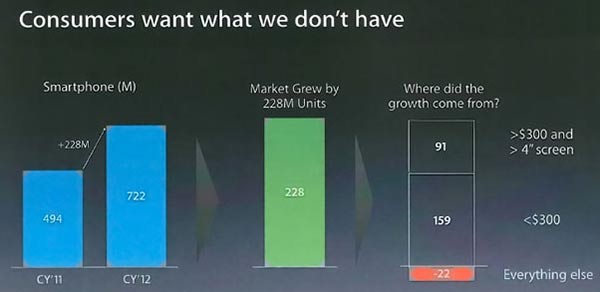 The growing realisation within Apple that "consumers want what we don't have," was illustrated on one of the slides. The same slide highlighted slowing growth rates of iPhones. The chart shows that overall smartphone growth recently is mainly from cheaper and larger devices; smartphones priced under $300, with screens bigger than 4-inches. Apple addressed neither of these consumer wishes last year, whilst its competition continued to offer larger devices and more attractively priced smartphone models.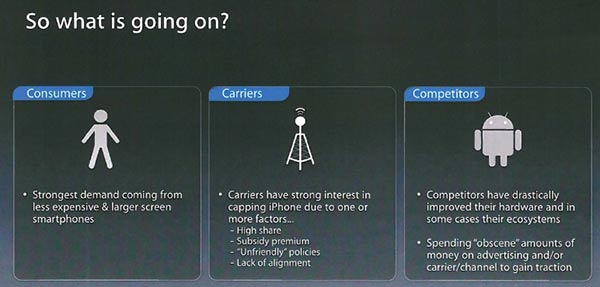 The iPhone's screen size has not changed since it last grew from 3.5 inches to 4 inches back in 2012. However many recent rumours have pointed to Apple possibly increasing the iPhone 6's screen size. It is said that a display measuring either 4.7 inches or 5.5 inches will be offered, where the smaller model is expected to hit the market first, sometime in September or October.
Apple: Samsung are in the zone
In the Recode report we also saw an email sent to Apple's ad agency by marketing head Phil Schiller saying: "I watched the Samsung pre-superbowl ad that launched today… It's pretty good and I can't help but thinking 'these guys are feeling it' (like an athlete that can't miss because they are in a zone), while we struggle to nail a compelling brief on iPhone."
It is not very often that we see Apple voicing its concern over its competitors in such detail, except perhaps the 2011 email from the late Apple CEO Steve Jobs, which included a bullet point of "Holy War with Google" where he planned competition on many fronts.
Samsung couldn't build a better slide-to-unlock
An internal presentation about "creating a more intuitive and emotional Samsung mobile interface" was dug up by Apple as it seeks to use this Samsung document to contest one of the five patent claims it is arguing in the trial: its slide-to-unlock gesture.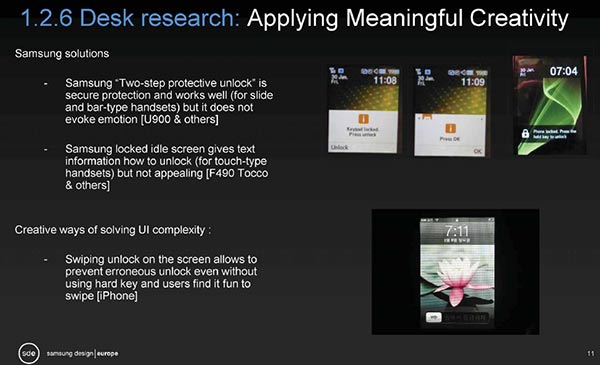 In the presentation, Samsung seems convinced that its own unlock idea "does not evoke emotion" and is "not appealing" or not as "fun" as Apple's. Apple's unlocking solution was presented as part of this internal discussion under the heading "creative ways of solving UI complexity" with Samsung's design team offering some alternative unlock mechanisms. However, these alternative unlocking ideas were never used as Samsung is eventually said to have decided to simply copy what Apple had come up with.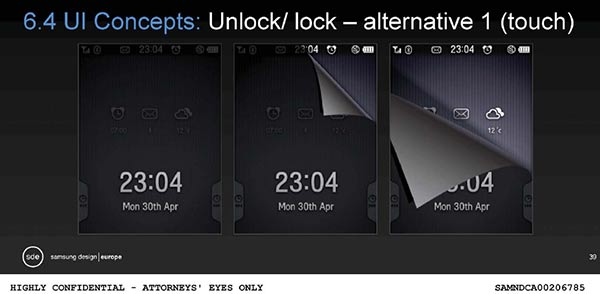 Newer Android devices offer quite a wide selection of unlocking mechanisms including Face recognition, PIN, password, slide and a popular pattern drawing option so it looks like Google has belatedly fixed Samsung's lack-of-imagination problem.