Amazon has turned the promotional zeal dial up to 11 today to announce its first ever Prime Day. This one day shopping event is, it claims, "filled with more deals than Black Friday," and it will be "one of the biggest deals extravaganzas in the world". The catch is that you will have to be an Amazon Prime member to participate and one day is pretty short for a sale which will include a multitude of even shorter 'lightning deals'.

Lightning deals every 10 minutes
Prime day takes place on 15th July. Amazon says there will be exclusive deals on electronics, toys, video games, movies, clothing, patio, lawn and garden, sports and outdoor items and more. It is a global event "offering more deals than Black Friday," exclusively to Prime members. There will be "thousands of Lightning Deals" starting from midnight BST with new deals throughout the following 24 hours – as frequently as every 10 minutes.
Alongside the sale, Amazon will be holding a PrimeLiving photo contest (share a photo of your happiest moment) with a grand prize of $10,000 in Amazon gift cards for the best entrants from Austria, Canada, France, Germany, Italy, Spain, Japan, the United Kingdom and the United States. No purchase is necessary to take part in this contest but again, you have to be a Prime member and can only submit one entry per Prime account.
Amazon Prime for £59 until midnight on 8th July
If you aren't already an Amazon Prime member in the UK you can now sign up for £59 for the year. The offer will save you £20 on a year-long membership. Your membership will auto-renew at £79 but you can cancel that renewal at any time up to that date.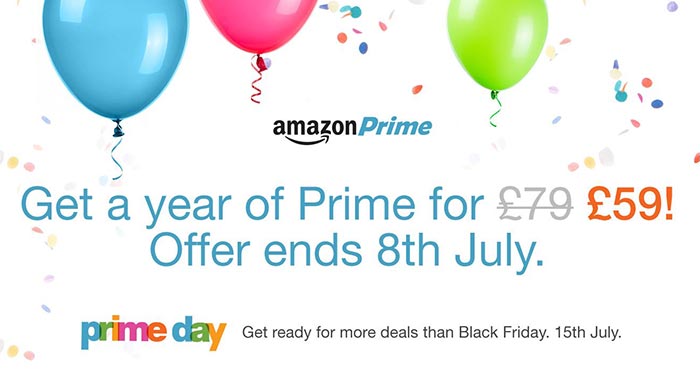 The above two events have been put together to celebrate Amazon's 20th anniversary. Amazon.com opened on the World Wide Web in July 1995.