Price comparison website uSwitch.com has released a new report revealing the best and worst streets in the UK for broadband connectivity. Many households in the country are still struggling with broadband speeds that fall far below the UK average of 22.9Mbps. This is despite the telecommunications giants putting in much effort and investment to expand their superfast broadband across the country. The research is based on over one million speed tests run by broadband users over a six month period.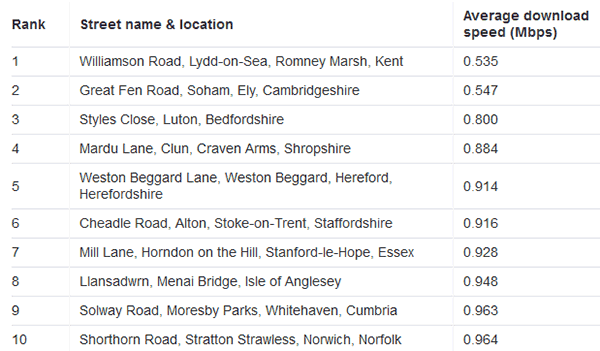 slowwwww
Williamson Road, in Romney Marsh, Kent, has been named as the slowest in the UK, with households receiving an average download speed of just 0.54Mbps. At this rate, it would take up to 19 hours to download a two-hour film, 2.5 hours to download a 45-minute HD programme and 49 minutes to download a 20-song album. Great Fen Road, in Soham, Ely, Cambridgeshire, was named second-slowest with 0.547Mbps and Styles Close, in Luton was third with 0.8Mbps downloads.
uSwitch highlights that the above dire speeds are 135 times slower than the average speed residents are receiving in Sandy Land, in Cannock, Staffordshire, which was discovered to offer the fastest broadband average in the UK (see below). For those fortunate residents living on the road, it would only take around an eight minute wait for a two-hour HD film to download, one minute to download a 45-minute HD TV programme and 22 seconds to download a 20-song album, as they receive average download speeds of 72.86Mbps.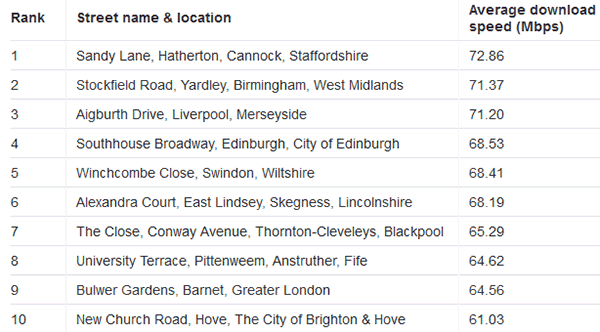 feeling the speed
Stockfield Road, in Yardley, Birmingham, and Aigburth Drive, in Liverpool were the second and third fastest streets with speeds of 71.37Mpbs and 71.2Mbps respectively. The results also indicate that overall, twice as many streets in the North of the UK are enjoying faster speeds than those in Southern counterparts. Scotland is home to six of the fastest streets and just two of the slowest.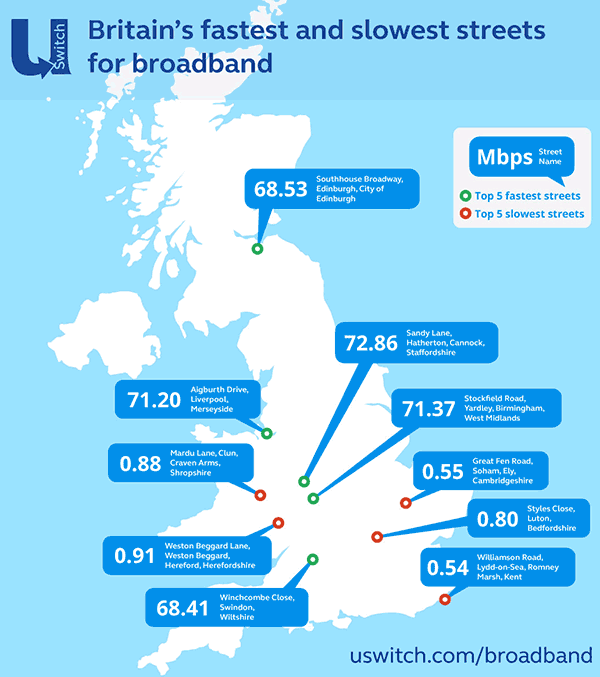 "On the UK's slowest street broadband speeds are so sluggish you could fly to the Bahamas and back again in the time it takes to download a film," Ewan Taylor-Gibson, a broadband expert at uSwitch.com, said. He revealed that issues within the properties and the user's distance from the nearest exchange are the most common causes for slow broadband.
"Wireless connections can be affected by the thickness of walls, for example, but your broadband provider can usually offer a solution if that's the case," Taylor-Gibson explained. "Superfast broadband is now available to more than three quarters of the UK, but nearly a third (31 per cent) don't realise they can get it. We looked at which of the 30 slowest streets had superfast availability and, interestingly, 37 per cent of them do, but residents have obviously chosen not to take up superfast services."