Google has revealed some Google Maps 'Easter Eggs', with hidden features telling you how long your travel time will be if you have access to certain more exciting ways to travel. New modes of transport added include a Welsh dragon, a Cambridge punt, the Royal Carriage or even the Loch Ness monster, providing you can them...
In addition to its growing list of options for directions, Google has hidden some extra 'functionality' to its mapping engine, offering those who keep a tamed dragon in their back garden an idea of how long it'll take for them to travel around Wales. For example, it will take you 21 minutes via dragon to go from Snowdon and the Brecon Beacons, instead of nearly four hours if you were to travel by car. Pretty quick it seems, providing you haven't got a fear of heights.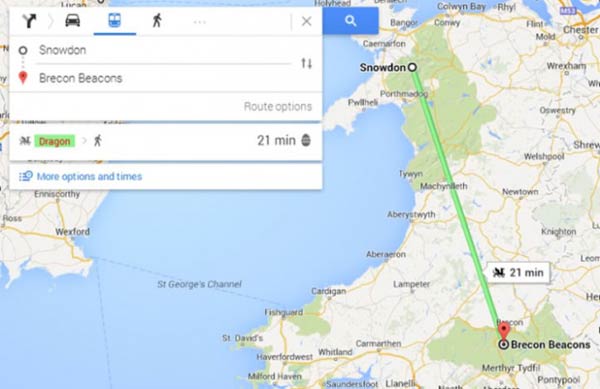 If you ever find yourself lucky enough to hitch a ride with Nessie in Scotland, he/she could offer you a quick ride from Urquhart Castle to Fort Augusta, taking just 25 minutes. Hopefully Nessie would remember not to dive under the water while you are hitching your ride.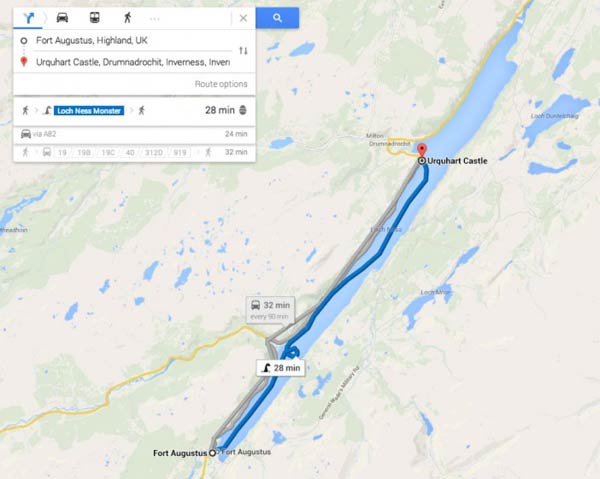 Perhaps more realistic are the new journey options found in England. A ride on a River Cam punt will take you between Magdalene College and President's Lodge, Queens College in 45 minutes. However, add some alcohol to the mix and drunken punting will, according to Google, get you to your destination much faster. Meanwhile in London, Google estimates the time for a leisurely trip in the Royal Carriage between Windsor Castle and Buckingham Palace, for those of you who are close friends of the royal family...
Last year we saw Google Maps give us access to Dr Who's Tardis, however the travelling time between map points via the Tardis can't be quantified by Google's mad mapping scientists.
If you find any other secret routes and modes of transport please let us know.