Amazon has announced that Amazon Prime will include unlimited streaming of more than 15,000 movies and TV shows from Wednesday next week. This move is, in effect, rolling in Amazon's LOVEFiLM Instant into Amazon Prime membership. The new service will be called 'Amazon Prime Instant Video' in a parallel to the offering which Amazon runs for its US customers.

"Millions of customers in the US have streaming video included as part of their Prime membership and they tell us they love the combination of unlimited delivery, the ability to borrow Kindle books, and convenient access to thousands of the most popular movies, TV shows and exclusive videos," said Greg Greeley, Vice President of Amazon Prime. "We are delighted to be bringing that same combination of services to the UK, providing members truly unique benefits they can enjoy every day of the year."
Amazon says the combined service will be available for £79 a year which represents "a 35% saving for all the benefits of the two previously separate services". However current Prime customers will enjoy the upgrade for free, until their renewal date, and until 26th Feb you can sign up for the combined 'Amazon Prime Instant Video' for £49 for the year.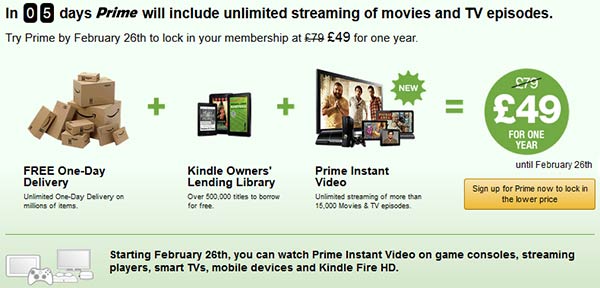 The new offering is clearly outline's in Amazon's graphic, above. Amazon Prime offers unlimited one day delivery on millions of items and lets users freely borrow Kindle eBooks from a choice of half a million titles. LOVEFiLM gives subscribers access to over 15,000 movies and TV shows in a service accessible from various smart devices. Now these services are to merge but Amazon says that it is not only making the combined bundle a better value proposition but it is increasing its investment in exclusive content and original programming for subscribers.
"We've worked hard to offer the best selection of TV shows and movies for Prime Instant Video—in fact, we've more than tripled selection since LOVEFiLM became part of the Amazon family," said Tim Leslie, Vice President of Amazon Instant Video for the UK and Germany. "We also added high definition video and introduced apps for popular devices like Xbox One, PlayStation 4, Samsung and Sony TVs and iPads and iPhones. Customers who love movies and TV will love Amazon Prime Instant Video."

Amazon exclusive video content includes the likes of the Hangover Part II, The Girl with the Dragon Tattoo, Alvin and the Chipmunks: Chipwrecked, The Walking Dead, and Vikings Season 2. We are also told that two original series are due to be launched soon and 10 new pilots for shows, created by the likes of Chris Carter (The X-Files), Eric Overmyer (The Wire, Treme) and Jill Soloway (Six Feet Under), are in the making.
Has Amazon's new offering and time limited merger special offer pushed any readers over the purchasing edge?