Google has recently introduced a video performance testing and grading system as it hits back at slow ISPs by testing internet speeds with a YouTube Quality Report. The tool is described as a third-party test which gives users a clear vision of how their internet service providers are operating based upon YouTube playback.
Although not yet available in the UK, the project is designed to test the quality and speeds by relying on data related to HD YouTube video playback and how well the ISPs can deal with these streaming demands. The website itself is split into three sections, with plenty of information on how the test works. This also includes a 'Your Results' section, where users will find a collection of graphs for each major ISP in their locality.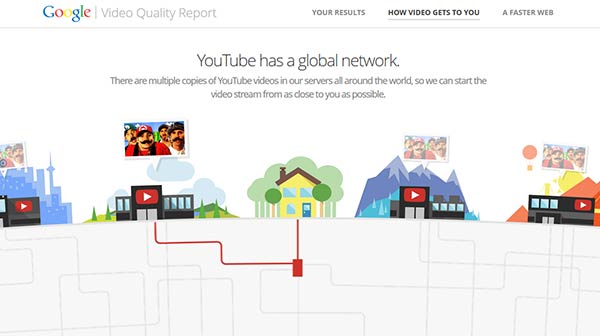 The example below is a test result from TekSavvy in Vancouver, as Canada is the first country where the service has been made available so far. But not to worry, as YouTube director of product management Shiva Rajaraman confirmed that the service will eventually expand to other global markets, reports the Financial Post.

Is your ISP 'YouTube HD Verified'?
Your ISP will be graded depending on its performance relative to that area when compared to other providers. Google certifies those ISPs which are able to handle 90% of 720p YouTube videos as "YouTube HD Verified". Networks that can load standard definition (resolution of at least 360p) smoothly are considered to be "Standard Definition" and those ISPs who struggle to load videos smoothly and quickly are deemed as "Lower Definition". The test report lets users evaluate, between providers, the comparative quality of YouTube video streaming all through the day.
The video quality report may seem initially to be aimed at its users. But Google's real intention is to use it as an attempt to get customers to insist that their ISPs invest in making both its and Google's products better. "We wanted to give users a measure of performance that they can truly understand … the other side is we felt this would be beneficial for ISPs too, because now they can describe their service and the various product offerings and price points they might have to their customers in a way that they can truly understand: You can access YouTube in HD on my ISP, or not," said YouTube's Rajaraman.
The firm is also anticipating that its test results will be picked up by ISPs in their advertising campaigns, giving companies a "factual way to present that information to their subscribers." Would readers welcome the arrival of this service quality measurement tool in the UK?