UK virtual fitting room start-up Metail has announced today that £2.6 million of growth funding has been secured in an institutional funding campaign lead by New World Private Equity Partners . A new 6,000 square foot HQ at a converted warehouse in Whitechapel, East London will be Metail's home when it moves out of London's Tech City in January next year.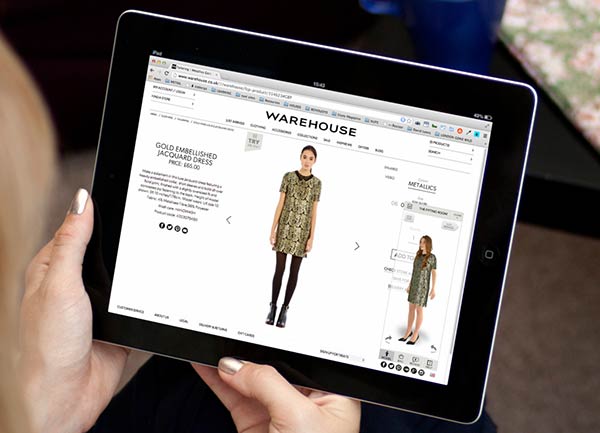 The funding project included participation of Metail investors and co-founders of Perform Group- Stefano D'Anna and John Gleasure. With the previously secured £2.8 million from family and friends, angel investors and through two research and development grants from TSB (Technology Strategy Board), this brings Metail's total funding to over £5.4 million.
"No more guessing games. No more returns. No more disappointment. Simple."
Founded in 2008 by Cambridge academic Duncan Robertson, Metail provides a virtual fitting room based on a 3D visualisation technology. The Metail system "aims to increase consumer confidence and enjoyment in buying clothing online, whilst also reducing return rates for the retailer." Shoppers are able to use the service by simply uploading a photo and entering a few basic measurements to create a 'MeModel', a virtual depiction of themselves, which can 'try on' clothes online and is accessible from sites supporting the technology.
Current retailers which implement the technology include Tesco, Warehouse and the Shop Direct Group in the UK. The system is also increasingly popular with international companies. Due to its success Metail has increased in size from 25 to 40 members of staff and has also newly appointed MD Kelvin Au to oversee developing a permanent Metail base in Asia.
Metail operates an interesting business model; it does not charge an upfront fee for its technology and work needed to visualise each garment, but instead generates revenue only if it helps to sell more products. Furthermore Metail provides the specialised photography rig and the training required to retailers. Photos are uploaded by customers to Metail's cloud and extrapolated into different sizes and fit based on a single sized item.
Recruitment of fashion journalist Sarah Walter as Chief Creative Officer was also announced in the press release. She has worked with various major UK fashion brands including Vogue, Bazaar, Marie Claire, New Look and River Island. To boost and increase awareness of the technology, Metail's 'MeModel' also has a monthly slot on ITV's This Morning with Take Over the Makeover.