BSkyB has won a court case in which it complained that Microsoft's SkyDrive infringes upon the its trademarks in the UK and Europe. This case started back in June 2011, the trial was held in April this year and the judgement passed just before the weekend. Another hearing will follow in which the presiding judge will hear arguments for a Microsoft appeal and decide what remedies need to be applied.

The judge hearing the case in London's High Court, Justice Sarah Asplin, concluded that Microsoft's use of the SkyDrive name was likely to cause confusion among consumers. In addition to this the use of the name was possibly detrimental to the Sky brand, so it could be viewed as trademark infringement.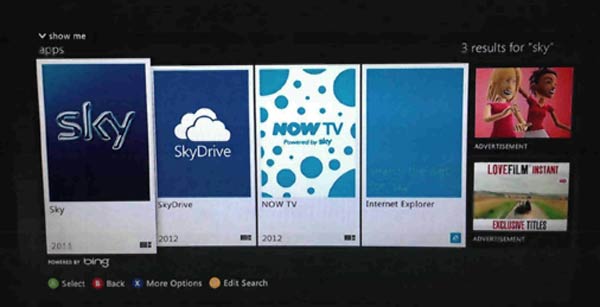 Confused when searching for 'sky' on the Xbox 360?
Microsoft will put in an appeal but if it loses it doesn't necessarily mean that it will have to change the name of its cloud storage service in Europe, a financial penalty may be accepted by BSkyB. A Microsoft spokesman told TechCrunch that "This case is only about the SkyDrive name and has nothing to do with service availability or future innovation." He added "The decision is one step in the legal process and Microsoft intends to appeal."
On the other side of the argument a representative from Sky updated TechCrunch on the ruling "Sky is pleased with the judgment handed down today by Mrs Justice Asplin. We regard any unauthorised use of the Sky name as a clear infringement of our well-established Sky brand. We remain vigilant in protecting the Sky brand and will continue to take appropriate action against those companies that seek to use our trademarks without consent."
That is where things stand now. Perhaps with BSkyB's expansion into online services including the 'Sky Store & Share' service, Microsoft's SkyDrive is genuinely stepping on its toes. TechCrunch reminds us that BSkyB launched a similar court case against Skype but that doesn't appear to have got off the ground.