With Google's typical six-week release schedule for Chrome, we don't always see too many significant updates all in one go, however Chrome 23 promises to offer a few much-welcome additions.
Google has at long-last provided GPU acceleration for native video playback to Windows users. Previously, the task fell to plug-ins such as Adobe's Flash, however, as major sites like YouTube move away from Flash in favour of native HTML5 playback, it's becoming vital that browsers offer this acceleration themselves.
GPU acceleration reduces CPU load and allows it to enter a low-power state. Google observed that, on a Lenovo T400 laptop, battery-life increased by a full 25 per cent once the GPU was able to take the reins. Likewise, hardware acceleration should offer smoother playback with less impact on other desktop programs.
Catching-up with competing browsers, Chrome now features the DNT (Do Not Track) protocol, which allows users to reject tracking cookies by default, helping to anonymise user traffic and prevent some targeted advertisements. However, DNT functions by sending a DNT request to a website and so, whether or not to track a user all depends on how the individual site behaves, thus Google also took steps to add fine-grain control over a site's permissions.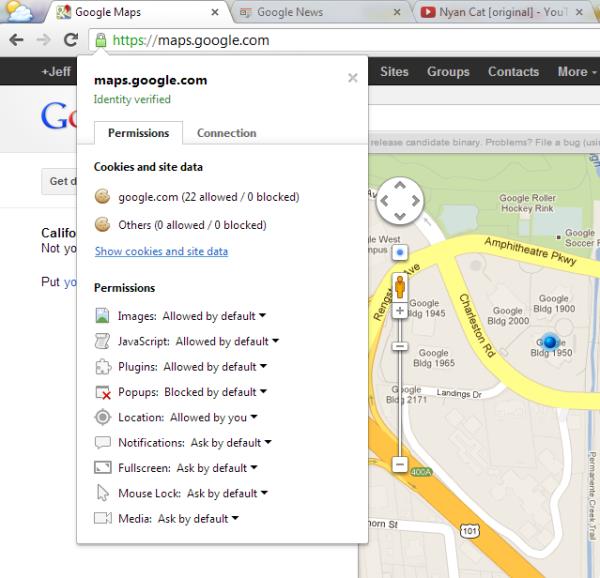 From the icon displayed just before a websites address, it's now possible to turn on/off individual cookies, data, images, javascript, webcam access and so on, on a per website basis.
For Windows 8 users, you'll notice that Chrome no-longer defaults to loading in the Modern UI when clicking on links from within the new interface. Switching back can be performed by clicking on the "Relaunch Chrome in Windows 8 Mode" option in the settings menu. Likewise, the bug that caused Chrome to believe it had been closed incorrectly in the Modern UI has been resolved.
If your browser hasn't auto-updated you already, head on over to "About Google Chrome" in the settings menu to trigger the update.