Tesco has bought a majority stake in movie-streaming website Blinkbox and could soon be going head-to-head with Amazon's LoveFilm and Apple's iTunes.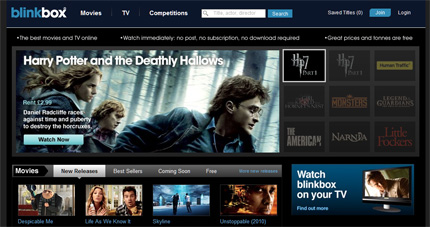 The acquisition, the first to be made under new chief executive Phil Clarke, has landed the retail giant an 80 per cent stake in an established service that claims to attract two million users each month.
The announcement comes shortly after the retailer revealed a dip in UK sales, with Mr Clarke openly admitting a "loss of form" and a desire to build on the company's online revenue growth.
Blinkbox, launched in April 2008, offers customers over 9,000 film titles for rental or purchase over the web on a number of devices, including PCs, Macs, game consoles and web-connected TVs.
Tesco hasn't yet announced plans to integrate Blinkbox into the Tesco brand, but the company's recently-appointed UK CEO Richard Brasher has confirmed the retailer's plans to link a customer's "physical purchase of a product to the building of digital collections in a new and seamless way".
"Whether customers want to own the DVD, download a digital movie, stream a rental or all three, Tesco is committed to giving customers choice."