Now that 2010 is well and truly over, monitoring firm comScore has released its analysis of the US search market for December.
Unsurprisingly, Google ended the year on a high, gaining 0.4 points since November to hold a total of 66.6 per cent of the search market. This massive slice of the proverbial pie translates to a hair under 11 billion searches for the month, which is three per cent - or over 300 million searches - more than the previous month.
Yahoo! came in a very distant second place, losing 0.4 per cent of the market to drop it to 16 per cent overall. This is equivalent to just over 2.6 billion searches in December and marks the lowest share that the company has held for some years.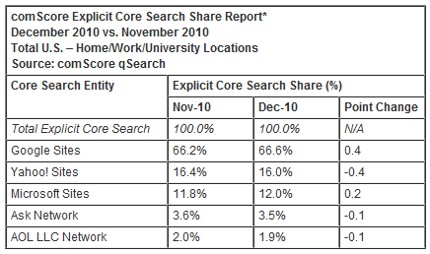 Microsoft's Bing came in third place and continued its steady ascent by gaining 0.2 points for a total share of 12 per cent, or just less than two billion searches.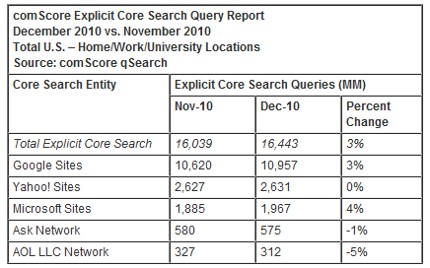 Of course, 2009's Bing-Yahoo! tie-up - which came into full-effect in America last August - means that the companies hold a combined market share of 28 per cent in the US. Although this is still a long way behind the Google-juggernaut, it still accounts for a fairly hefty share of all search traffic and shows quite how far Microsoft has come in the last few years.
Rounding out the list were Ask and AOL, both of which dropped 0.1 points in December to bring them to 3.5 per cent and 1.9 per cent of market, respectively. Ask will probably continue to surrender its share of the traffic, having announced that it would be retiring from the search market in November.