Believe it or not, the BBC's iPlayer has only been around for three years, but in that time the streaming service has gone from strength to strength. Recently, the Corporation released some facts and figures detailing just how popular it was and announced that 2010 had been its best year yet.
In total, Auntie received 1.3 billion requests for TV and radio programmes during 2010, hitting a high of 141 million requests in November. The most popular TV show - by a significant margin - was Matt Smith's debut as Doctor Who in the episode The Eleventh Hour, which was watched 2.2 million times.
The first episode of Top Gear Series 15 managed to pull in over 1.6 million viewers, while A Study in Pink from the re-imagined Sherlock Holmes mini-series attracted another 1.4 million. In fact, each of the top nine programmes was watched over one million times.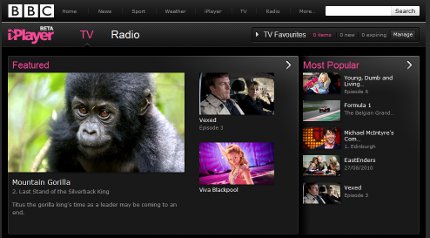 Sports dominated the list on the Radio side, with the England v Slovenia game, one of last year's Ashes tests and the final of the World Twenty20 cricket making up the top three. In fact, the top non-sports programme was a November episode of the Chris Evans Breakfast show on Radio Two, which recorded 119,000 listens, earning it seventh place.
According to the Beeb's Daniel Danker, "BBC iPlayer has had a remarkable year - with well over 100 million requests for programmes each month of 2010 and over 1.3 billion programmes played through the year".
"In 2011 we will bring BBC iPlayer to even more licence fee payers, dramatically increasing our investment in BBC iPlayer on mobile and TV, and laying the foundation for an incredibly interactive London 2012 experience".
TV Top 10: best-performing episode per title/series, 1 January 2010 to 17 December 2010
Doctor Who, Series 5, The Eleventh Hour, Episode 1, BBC One, 2,241,000
Top Gear, Series 15, Episode 1, BBC Two, 1,680,000
Sherlock A Study in Pink, Episode 1, BBC One, 1,403,000
Top Gear, Series 14, Episode 7, BBC Two, 1,255,000
Outnumbered, Series 3, Programme 1, Episode 1, BBC One 1,157,000
EastEnders Live 19/02/201,0 BBC One 1,130,000
Live at the Apollo, Series 5, Episode 6, BBC One, 1,076,000
The Apprentice, Series 6, Bakery Episode 3, BBC One, 1,050,000
Doctor Who, The End of Time Part 2, Episode 2, BBC One, 1,015,000
Russell Howard's Good News, Series 2, Episode 3, BBC Three, 982,000