The BBC has revealed that demand for its iPlayer Internet TV service has almost doubled in the past twelve months.
The first month of a new decade witnessed a record number of requests for iPlayer content, with the BBC receiving a staggering 120 million requests across all platforms.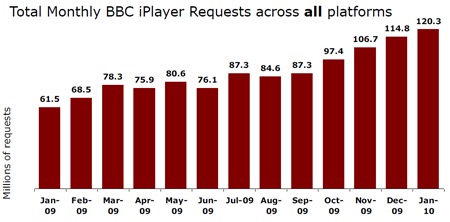 During the same month, the BBC recorded its highest number of requests in a single week - 23.8 million during the week beginning January 4th, excluding those accessing the service via Virgin Media.
The continued rise in demand could be accredited to consumers catching up on Christmas programming, and the BBC adds that the UK's adverse weather conditions have helped propel iPlayer usage - with many in the UK opting to stay out of the snow and instead tune into their favourite shows.
Popular TV shows during January included the seventh episode of Top Gear's 14th series - accumulating 1,135,000 requests alone. The popular motoring show was followed by Doctor Who: The End of Time (Part 2, Episode 2), with 831,000 requests and Gavin and Stacey (Series 3, Episode 6) with 700,000 requests. The radio charts, meanwhile, were dominated by Test Match cricket broadcasts - occuping seven of the 10 most requested episodes.
In terms of platforms, the PC remains the strongest iPlayer provider but alternative TV-connected devices continue to gather momentum. TV requests via Nintendo's Wii games console grew in January, rising from three to four per cent of all requests. Sony's PlayStation 3 remained at eight per cent, whilst Virgin Media's set-top receiver recorded an estimated 20 million requests, roughly 17 per cent of the January total.