The BBC has launched a child-friendly version of its hugely popular iPlayer service.
BBC's re-branded player, dubbed iPlayer CBBC, promises on-demand content via a visually-rich interface designed for 6-12 year olds.
CBBC - winner of the BAFTA's Children's Channel of the Year - features long-running shows such as Blue Peter, and young viewers will now be able to access programmes up to a week after broadcast on iPlayer CBBC.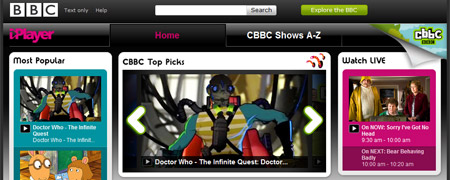 The BBC claims that the service is in response to the "significant number of requests" for CBBC content on its successful iPlayer. Despite its relatively quiet launch, a marketing campaign in scheduled for February 2009, and a CBeebies iPlayer - designed for children under six - will launch shortly after.
iPlayer CBBC can be accessed at bbc.co.uk/iplayer/cbbc.