Doing more than just silicon manufacturing
Bridging between the real and digital worlds.

Jim Held, Intel Fellow and director of tera-scale research computing program, kicked off the first day of IDF 2008 by explaining how Intel's cornucopia of technologies could be leveraged to improve the connected visual computing (CVC) experience.

What's a connected visual computing experience, you might ask? Intel reckons it's a nascent 'segment where people share experiences and information online within highly intuitive, interactive visual interfaces.'

These interfaces include virtual worlds - Second Life, for example - and 'augmented reality', such as Google Earth, based on real-time, real-world imagery.

That kind sounds like boring hyperbole, right? But the industry invested over $1bn in such research ventures last year and, according to Held, the underlying technology fits in well with current terascale research.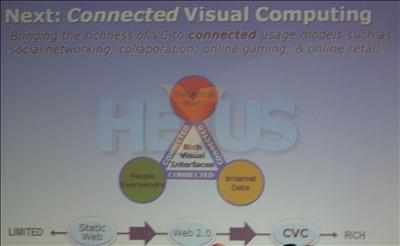 What we think

Intel reckons that connected visual computing is the next step in immersive computing - making the web more real. Knowing how much emphasis it is putting behind the segment, Intel is looking for ways in which current research and products fit in with this vision. Tera-scale computing can help with the processing load, of course, and the 'carry small, live large' initiative brings a mobile element to it.

However, and extremely important to enabling a connected visual computing experience is, really, the visual part: graphics. Currently, Intel has no leading technology in the area dominated by NVIDIA and ATI/AMD. Rather, this is where we see the soon-to-be-productised Larrabee comes in.

Now, with respect to CVC, where's my holodeck, Intel?