NetMarketshare has just announced its latest marketshare data, and unsurprisingly it looks like it's been another good month for Google and Apple.
The browser share numbers show that - for the first time - Chrome has broken into the double digits, capturing 10.07 per cent of the global market. Although Firefox has managed to hold steady at around 22 per cent, Internet Explorer continued its long slow decline by hitting a low of 56 per cent.
It wasn't all bad news for Microsoft, though. Internet Explorer 8 continued to grow in popularity as users moved away from IE 6 and 7. In fact, the decade old Internet Explorer 6 tumbled to 11.43 per cent this month, finally approaching single digits. The beta version of IE9 - which is rumoured to hit Release Candidate status next week - also saw growth, capturing half a percent of the global market.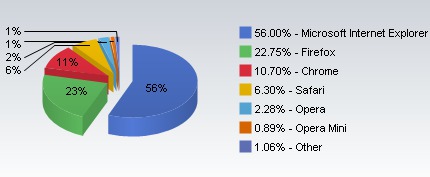 In terms of operating systems, the picture wasn't too surprising. Windows commands an impressive 89.7 per cent of the market, with Windows 7 accounting for 22.31 per cent of the global pie. In a distant second was OSX, which climbed slightly to 5.25 per cent.

What's amazing, though, is that iOS now accounts for 2.05 per cent of all web traffic - up from 1.69 per cent last month and 0.62 per cent last March. No doubt buoyed by sales of the iPad and iPhone 4 over Christmas, the mobile OS is growing at an amazing pace and quickly closing the gap on its desktop counterpart.
The situation in the UK is even more impressive, where the platform accounts for 5.1 per cent of net traffic. While this is pretty high compared to the rest of the world, Brits aren't quite as addicted to iDevices as our tech-loving counterparts in Singapore (9.98 per cent), Hong Kong (6.01 per cent) and Guernsey (6.33 per cent).