Barnes & Noble announced on Thursday that it is terminating a partnership with Microsoft with regard to the Nook business. The book seller has struck a deal to buy Microsoft's entire stake in Nook Media LLC, reports Reuters.
The news came two years after Microsoft initially invested $300 million to create a separate Nook Media company with B&N. The deal was originally part of a patent dispute settlement between the two companies, following B&N's refusal to pay Microsoft patent royalties for its Android-based readers. The book company was granted a royalty-bearing license to Microsoft's patent after the investment. However a recent SEC filing revealed that B&N is buying back Microsoft's 17.6 per cent position in the company for just $62.4 million in cash and 2.7 million in shares.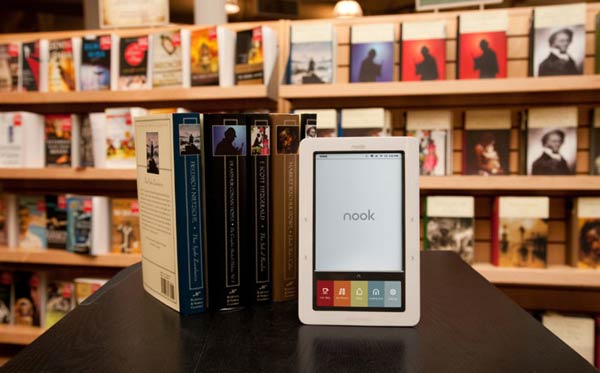 In addition to the announcement of the dissolved partnership, B&N reported a quarterly profit that fell short of Wall Street expectations, mostly due to the sharp fall of Nook device sales and segment revenues year over year. The company's Nook segment saw year over year quarterly revenues decrease 41.3 per cent from 2013 levels to $64 million, with its device and accessories sales disappointing even further, plummeting 63.7 per cent from last year. To make things worse, even Nook digital content sales dropped 21.2 per cent to $45.2 million for the quarter.
Nook was first launched in 2009 following in the footsteps of Amazon's successful Kindle e-reader. Even though it enjoyed initial success, the division has since its launch cost B&N hundreds of millions of dollars as it was unable to keep up with the success of Amazon's Kindle or Apple's iPad. A couple of co-branded Samsung/Nook tablets preinstalled with Nook software were released this summer in a bid to help the dying e-reader pioneer, but failed to make much positive impact on its financial report.
B&N believes the end of the partnership with Microsoft will bring the company greater "operational and strategic flexibility", and provide a "clearer path" to its plan to separate the Nook division entirely. That plan is supposed to be executed by the end of August next year.
"As the respective business strategies of each company evolved, we mutually agreed that it made sense to terminate the agreement," a Microsoft spokesperson said in an e-mailed statement, failing to give much insight into the decision to end the partnership with Barnes & Noble.