In financial news today LG Display announced a consecutive third quarter loss of $113 million. LG is the world's second largest supplier of LCD displays, behind fellow South Korean electronics giant Samsung. The company has made barely any profit since 2010 saying it has been hurt by slow television sales due to the recession.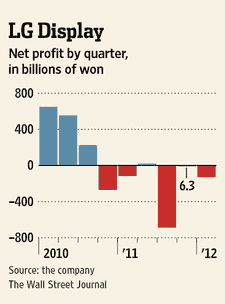 LG were optimistic about the foreseeable future, citing the upcoming Olympics and Euro 2012 championship events. Such sporting events usually help spur new TV sales. Also contributing to the losses were the lowering of prices of large flat panels due to weak demand.
Sales of screens to Apple for the new iPad didn't reverse LG Display's fortunes this quarter. LG has reportedly struggled to make displays for the new iPad, as has Sharp, leaving Samsung as the sole supplier in the first quarter.
In the next quarter, sales of the new iPad are expected to be about 19 million units. Ming-Chi Kuo at KGI Securities says Samsung will remain main supplier of the iPad screen because of LG and Sharp's production difficulties. However Yoo Jong-Woo, of Korea Investment & Securities said "In the second quarter, LG Display's panel shipments for the new iPad will be about 8 million units and the revenue from that is expected to come in at about 800 billion won ($700 million)". These figures would give LG Display an estimated second-quarter operating profit of 113.8 billion won ($100 million).
LG Display has lost so much money since the third quarter 2010 despite news that factories were running at full capacity in the latter half of 2010. Looking at the analyst figures above it would seem that producing smaller high definition screens is currently where the money is at, however this area of business brings in just 20 per cent of LG Display's revenue. The other 80 per cent of revenue is from TV, computer and laptop displays.