IBM announced in a press release this morning that it had entered into an agreement to purchase privately held BLADE Network Technologies for an undisclosed sum.
The Santa Clara-based company specialises in server switches as well as software designed to virtualise and manage workloads, especially for cloud computing. In fact, BLADE has established quite a name for itself and can count half of the Fortune 500 companies among its clients.
The move is a smart one for IBM, who will use the acquisition to significantly bolster its data-centre offerings as competitors continue to expand into this area. The two companies also have a history of collaboration, which has resulted in more than half of IBM's BladeCenter servers using a BLADE product. However, Big Blue will now be able to offer customers a more complete product solution, as well as continuing to develop BLADE's technologies to achieve better integration with its own servers.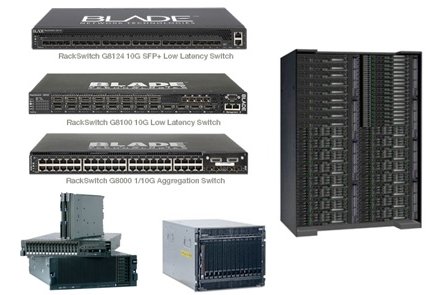 According to IBM's general manager of System Storage and Networking, Brian Truskowski, "BLADE will help IBM better integrate networks with its systems, optimizing them for workloads that require high-speed and low-latency performance such as cloud computing and business analytics".
This is the latest in a wave of Silicon Valley acquisitions that has seen industry heavyweights snapping up smaller companies over the past few months. It's also the third major acquisition that IBM has made this month alone, after Netezza and OpenPages.
It's encouraging to see companies - and presumably banks - prepared to make these sorts of big-money purchases, and surely a positive sign for the economy. It will also be very interesting to see how these deals shape the marketplace over the coming months as the balance of power in certain markets continues to shift.