Never one to shy away from making bullish statements, NVIDIA CEO Jen-Hsun Huang has been making some bold projections about his company's future.
Huang started by describing where the GPU-maker would be concentrating its efforts over the coming years. While this should come as little surprise following the release of the Fermi architecture, he pointed out that the company was about "two-thirds" focussed on parallel and high-performance computing. This leaves 30 per cent of its resources for visualisation - including consumer graphics-cards - and around five percent for mobile products, namely Tegra.
This shows the company's dogged determination to succeed in the 'parallel' market, despite struggling to make that part of its business profitable. Huang also admitted earlier this week that its HPC solutions were made possible largely because of the success of its consumer and professional products.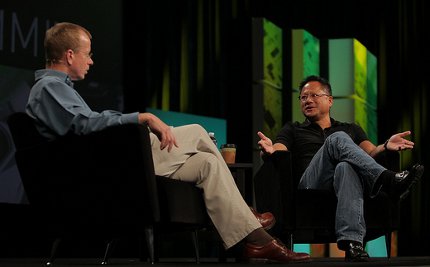 Despite a relatively small focus on mobile products, Huang also saw a big future for ARM-based chips. He commented that "ARM will be the most important CPU architecture of the future, and it already is the fastest growing processor architecture," adding that "it's a foregone conclusion that the personal computer of the future is this size" as he held up his smartphone.
The CEO also had something to say about Intel. When asked about the company's turbulent relationship with the CPU-giant, Huang simply responded that "we're trying to have a lesser one". Of course, in a future dominated by ARM processors, NVIDIA is likely to become less reliant on systems based on Intel's silicon.
Mr Huang certainly has grand aspirations for his company, but its lack of financial success in the portable and HPC markets mean that the future is far from certain.