Business Focused Graphics
NVIDIA AIB partner BFG has opted to set up at Planet Reseller for this year's CeBIT, to reflect its desire to host business meetings rather than provide pens for under-achieving teenagers.

Euro marketing dude Graham Brown told HEXUS.channel that, because Planet Reseller is entirely B2B (i.e. the riff-raff aren't allowed in) it is much better suited for business meetings.

'Why spend loads on a huge stand when many of your target audience already know about you?', said Brown. 'Planet Reseller is a lot bigger than last year because of its superior meeting facilities.'

BFG is also expecting to need this facility to accommodate all the European journalists who are apparently flocking to see the unveiling of its GeForce 9800 GX2 card tomorrow. HEXUS.channel got a sneak preview and will publish images ASAP.

Also launching and vying, we suspect unsuccessfully, for attention with the GX2, will be BFG's new PSU - the ES Series 800W one. The design of the unit was apparently inspired by Jonny Guru - real name Jon Gerow. For a surprisingly comprehensive explanation of the origins of the pseudonym click here.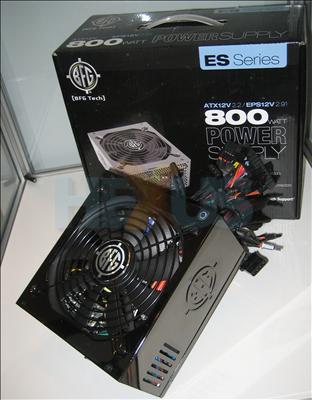 Slightly more photogenic is BFG's CeBIT 2008 demo machine - a three Ultra SLI Vadim lovingly tarted up by Bristol graffiti artist Graham Dews.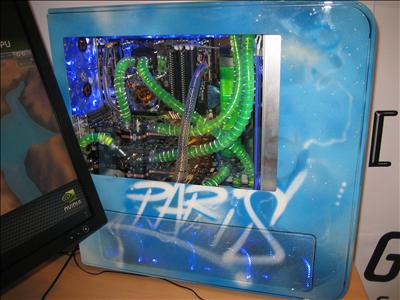 We asked Brown, as an AIB partner for both NVIDIA and AGEIA, what he thought of the acquisition of the latter by the former. 'Hopefully you'll see game developers start to take PhysX seriously now', he said, adding that the thinks it will manifest itself as an add-on feature.
Brown wouldn't be drawn on what, if any, messaging he had received on the matter from NVIDIA.