It's raining yen
Gigabyte Technology, best known for its mainboards, is showing off a prototype of its new memory liquid cooler at CeBIT.

Named Cool Rain, it solves a problem many PC users may not have known they had, that of overheating RAM.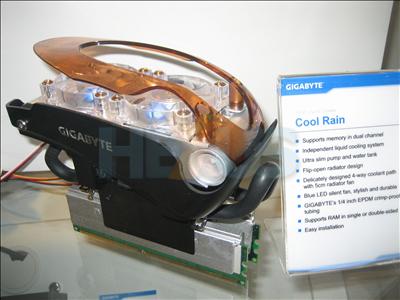 HEXUS.channel was also able to talk to product managers Rockson Chiang and Colin Brix about Gigabyte's plans for the channel.

While the two of them wouldn't be drawn on why Gigabyte's collaboration with Asus, jauntily named Gigabyte United, had come to an end so soon, they were keen to stress that Gigabyte's strategy was to make money as opposed to fight price wars.

By this they seemed to mean that they think the future of the company is best served by making high quality products, that offer decent margin, as opposed to just trying to undercut the opposition. We're sure many in the channel will raise a glass to that.

Incidentally, the consensus seems to be that the other reason Asus's involvement in Gigabyte United was doomed was that the fine-happy European Commission wasn't happy with the joint effort on competition grounds.

Apparently Gigabyte and Asus would have had a combined 70 per cent market share of the motherboard channel market in the UK.