A slow demise
As little as five years ago the UK technology trade had two major trade shows per year, one in London and one in Birmingham. Now only the Birmingham one remains and it's a shadow of its former self.
This year's version took up only a fraction of one of the smaller halls, as you can see from the gap in the facade next to Antec's stand in the image below revealing an unfilled expanse. One consequence of this was that it wasn't even big enough to accommodate its own bar - frequently the place where most business gets done.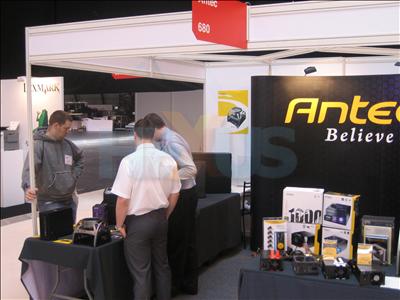 Most major distributors either scaled down their presence or pulled out a while ago, and there was minimal presence from the major hardware vendors. One sector that still seems to consider the show worthwhile, however, is security software.
The majority of people we spoke to at the event said the one thing they took from the event was the opportunity to meet existing contacts face-to-face. They said they didn't really meet anyone new, but that it's useful to bump into some familiar faces.
Tellingly, a lot of the people we spoke to weren't actually exhibiting. As we remarked this time last year, the future of trade events, in the UK technology sector at least, seems to be to focus on the networking.
Perhaps someone should launch a new event focusing primarily on that side of things.