A Shiny New HEXUS
No need to adjust your browser, monitor, or Internet connection, you are indeed visiting HEXUS.net. We have updated the site to look slicker, provide more features and be easier to use. The sheer level of growth that we have experienced has lead to us saying goodbye to the old style of HEXUS, taking us to the next level. Consider this article an introduction to the new HEXUS, a means of orienting yourself and learning about the site's newest features!
Initial observations
So, let's answer some of the questions you may have asked yourself when you visited HEXUS today.
First off, you will note that some things have moved around a bit, like the "latest review" box. This is to make room for new features and also to make sure items get the exposure they deserve. You will note that most items are still present on the site, even if their location on the page has been moved. All HEXUS.content is listed down the left hand column now, including press releases, reviews and features. Down the right we have the interactive content, such as the new login pane and of course, the current poll.
News
Providing readers with quality news and reviews from around the web is hard work. Furthermore, there is so much of it, that posting it all directly to the front page would result in a lot of worn out scroll wheels! So, we have implemented news forums for the various sections of the site (more on that shortly). To complement these now well established forums is the news panel each channel's front page.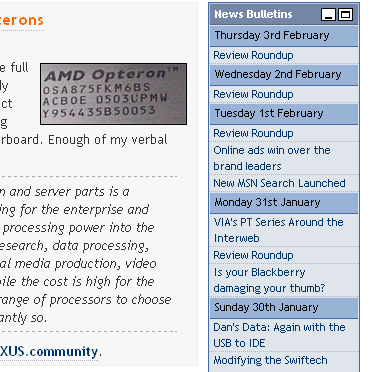 The news panel provides links to the latest stories in the news forums. Click a title to read more and of course, contribute your thoughts on the stories.
Sections Galore
HEXUS has grown so much that there are now several distinct sections, so we have expanded into channels:
HEXUS.core - The main HEXUS site, where you'll find your usual dose of hardware related news and reviews.
HEXUS.gaming - For the latest gaming news, reviews, previews and gossip, HEXUS.gaming is the place to be.
HEXUS.trust - Rate users when buying and selling in public forums and also rate your online e-tailers.
HEXUS.forums - The ever-growing HEXUS.community, where you can ask technical questions, provide us with review feedback, or just drop by for a chat.
HEXUS.lifestyle - Media Centres and Portable Music Players are the name of the game. Enrich your life with HEXUS.lifestyle.
DVdoctor - If Digital Video technology is your scene, check out the DVdoctor channel for the latest in DV related editorial.




While looking around, you will see that parts of the site remain essentially the same, with a few additions, changes and a bit of reshuffling. It's all good, I'm sure you'll agree.
Logging in
To help personalise HEXUS we've introduced a global login system across the editorial channels. If you have used HEXUS.trust before, then you can use your HEXUS.trust login. The HEXUS.community exists separately from the rest of the site, so you'll have a separate login for the forums.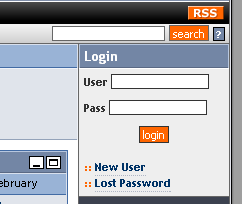 You don't need to be logged in to read HEXUS, but it does make certain tasks easier, such as mailing review links to friends. To log in, just enter your HEXUS username and password into the login box at the top right of the page. If you don't have a username, you can click "New User" and register.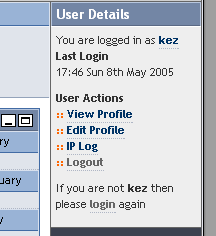 Still with me? Good! Let's have a look at some more new features.