Introduction
Want to experience the latest technologies on offer from the world of gaming? Then look past PlayStation and Xbox game consoles and consider a truly high-end PC. This is where it's at if 4K and virtual reality are high on your list of priorities, as nothing else comes close in terms of sheer performance.
Do however be prepared to spend big. The hardware requirements of ultra-high-resolution gaming are such that price tags for enthusiast rigs can become downright frightening. A new games console may cost a couple of hundred quid, yet that's pocket change compared to extreme PCs that could set you back many thousands. It's a playground for deep-pocketed gamers, and if you're eligible for entry, the Scan 3XS X99 Carbon Fluid Extreme SLI is brought into focus.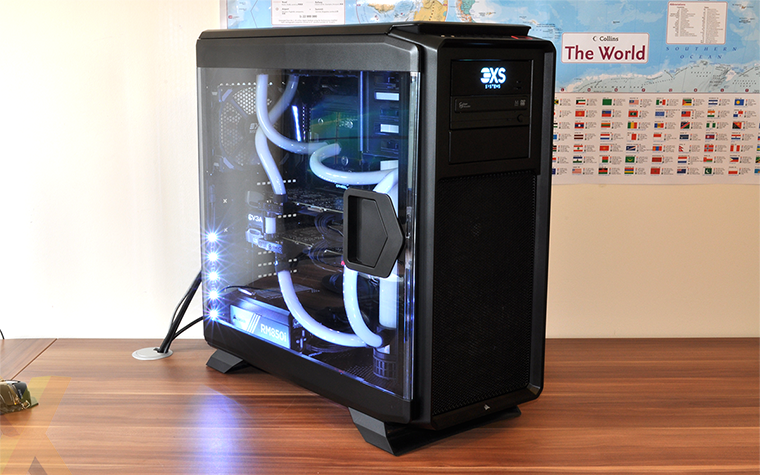 Priced from £5,700, Scan's rig is a custom-built showcase of 2016's best PC components. This is the sort of price point at which Intel's X99 chipset and Nvidia's Titan X graphics cards start to make sense, yet it's a sign of the times that even on a build as premium as this, there's a need to keep costs down by playing it safe in some areas.
The most obvious example is the Corsair Graphite Series 760T chassis. It's a perfectly decent enclosure, with a nice large window and a roomy interior, yet our immediate reaction is that the plastic front fascia and overall style aren't in keeping with the components within. We might have preferred, say, a be quiet! Dark Base Pro 900 or a Cooler Master MasterCase Maker 5, and it's a shame Scan doesn't offer an alternative case as part of its customisation options. As it stands, those seeking something more unique from a visual perspective need to consider an even pricier Dream PC.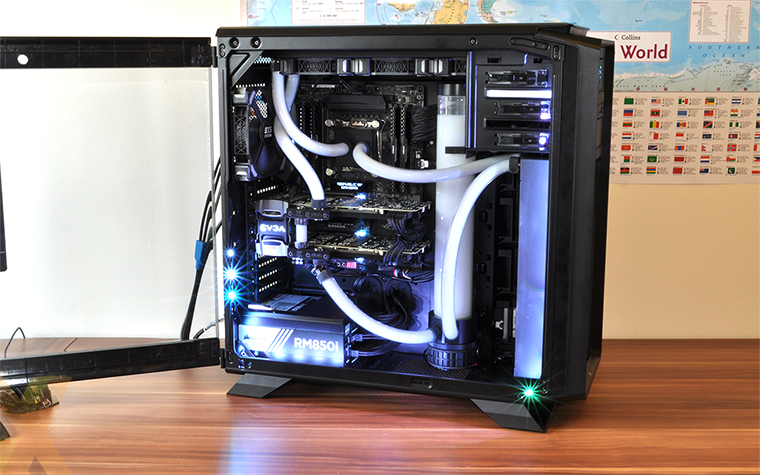 Should you happen to be a fan of the Corsair case, you're going to love what Scan's done on the inside. Our £6,500 review sample arrived with an Asus RoG Strix X99 Gaming motherboard kitted out with a 10-core, 20-thread Intel Core i7-6950X processor, 32GB (4x8GB) of Corsair Vengeance LPX DDR4-2666 memory and not one, but two Nvidia GeForce GTX Titan X 12GB graphics cards. 64GB of system memory is available as an optional extra, but either way, the core components are about as good as it gets.
Liquid cooling is, of course, included as standard, with Scan opting for an EK-based loops that encompasses all three processors. Running through the kit list, we have an EK Supremacy Evo CPU block, a pair of EK FX Titan X GPU blocks, an EK Res X3 reservoir, an EK XRes 100 pump, tubing filled with Mayhems Pastel Ice White fluid, and two EK Coolstream radiators. The 360mm rad in the roof is joined by a trio of Corsair ML120 Pro fans while the front 280mm rad is paired with two Corsair ML140s. Better still, Scan's engineers have applied custom fan profiles in BIOS to ensure noise levels are kept down to a minimum.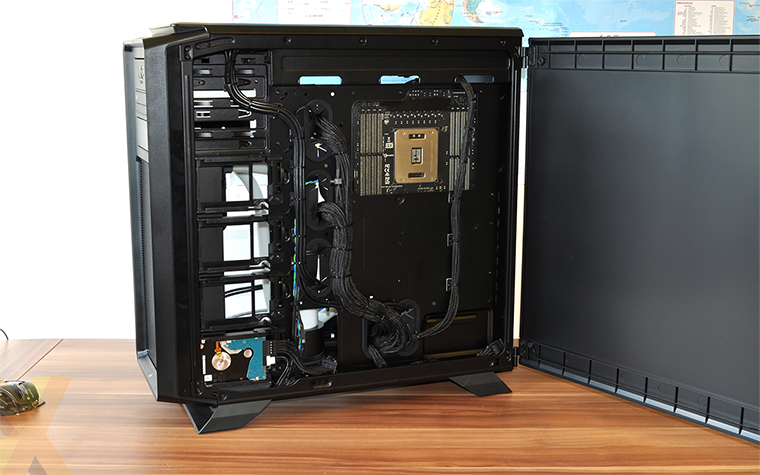 The tidiness of the build is without a doubt a plus point, with excellent cable management evident throughout, and the core components tick a lot of the right boxes. Storage is provided by a 512GB Samsung 950 Pro NVMe SSD as well as a customary 2TB Seagate hard disk, power is sourced from a Gold-rated 850W Corsair RM850i supply, and a couple of LED strips tie-in with the Asus motherboard for Aura RGB lighting customisation.
Building such a machine on your own with products sourced from various outlets would no doubt shave a couple of hundred off the price tag, however there is something to be said for peace of mind when you're spending these sorts of sums. Scan's machines undergo an eight-stage build process that's fully trackable online, followed by a 24-hour stress test and an 88-point quality control check. Once passed, dispatch is within five days (three if you opt for fast track) and the system is backed by a three-year warranty that includes on-site parts and labour for the first 12 months.
A warranty from a reputable UK retailer holds extra weight and it also covers the out-the-box overclock. Not content with the core components in their factory state, Scan goes the extra yard and increases frequencies on all meaningful fronts. The Core i7-6950X is overclocked to 4.2GHz across all cores, while both Titan X GPUs see boost frequency stretched from 1,531MHz to 1,706MHz and memory jumps to an effective 10,360MHz.
Eager to see what £6,500 worth of overclocked, liquid-cooled and potent PC goodness can do in our benchmark suite? Then let's take a look at some numbers.