Introduction
The level of integration on modern CPUs and chipsets, coupled with wide availability of increasingly efficient, off-the-shelf components, has made it easier than ever to put together your own performance PC. It's a satisfying experience and some will argue that building your own is part of the fun, yet if you're aiming high and willing to spend thousands of pounds, there's a lot to be said for the peace of mind that comes with a pre-built, overclocked and fully-guaranteed system.
Choices are plentiful at this end of the market, with prices ranging from considerable to abominable, and Cyberpower is hoping to lure the ultra enthusiast with a new addition dubbed Luxe Xtreme.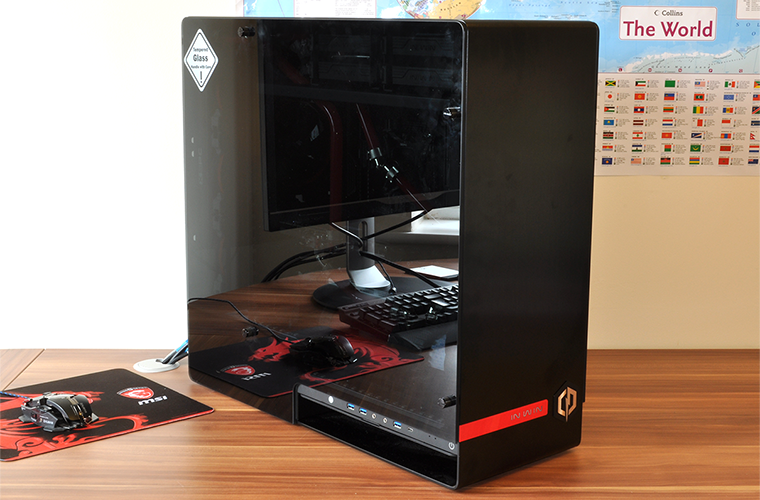 Priced at a cool £4,399, the Luxe Xtreme is designed to be eye-catching from the get go, so it's no surprise that Cyberpower has made use of an In Win 909 enclosure. The Taiwanese chassis manufacturer has developed a penchant for flair, and the way in which the 909's 5mm tempered glass side panels attach to a one-piece 4mm aluminium shell make this is a fitting choice for a high-end build. Users get a full view of the interior, there's hardly any external clutter, and though the tinted sides provide a sleek overall aesthetic, this is a case that's bound to turn heads.
A beautiful thing, yet such an elaborate design does introduce a few caveats. The I/O strip, which includes USB 3.0 Type-C, is located near the foot of the case and may not be ideal depending on where you put the PC. There are no optical bays - a strange omission given the large size of the 540mm x 231mm x 575mm frame - and the chassis alone weighs 17kg, so Cyberpower's fully equipped rig is by no means easy to transport. Our review sample was delivered on a pallet, and while there's plenty of packaging to protect against overzealous couriers, we'd recommend at least two people carry the machine into the house.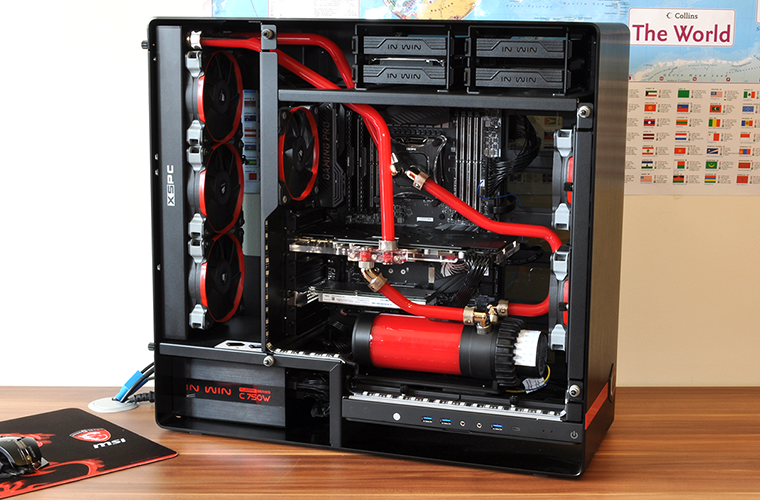 What exactly does the best part of four-and-a-half grand buy you? Cyberpower has an MSI X99A Gaming Pro Carbon motherboard as the foundation and installs a 10-core, 20-thread Intel Core i7-6950X processor that's overclocked to 4.0GHz across all cores. Peak speed isn't as high as the more common Core i7-6700K, but the Broadwell-based chip's core count is the ultimate choice for multi-threaded workloads and, of course, potential bragging rights.
Joining the 140W CPU is an MSI GeForce GTX 1080 Sea Hawk EK X graphics card and both are plumbed into an XSPC liquid-cooling loop comprised a thick triple-fan radiator, a RayStorm CPU block and a D5 Photon reservoir/pump. All the goodies are hooked-up via rigid PETG tubing and for added effect are filled with a red coolant that's in keeping with the rest of the build. It looks mighty impressive and we like that Cyberpower has paid attention to the details - the Platinum-rated In Win X750W modular PSU blends right in and the addition of half-a-dozen Corsair fans with red trims is a nice touch.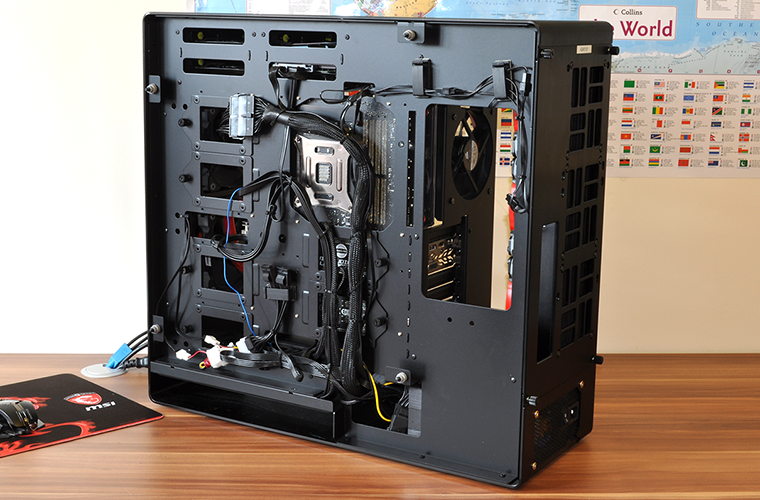 Storage takes the form of a 400GB Intel 750 Series NVMe PCIe SSD as the system disk, followed by a 2TB Seagate hard disk for secondary storage duties. What's unexpected is that the default specification includes only 16GB of Corsair Vengeance LPX DDR4-3200 memory in a dual-channel (2x8GB) configuration. Quad-channel upgrades are available via Cyberpower's online configurator, and if you're spending this amount of money, the 32GB DDR4-3200 option at £62 is certainly worth considering.
The layout of the 909 chassis does pose a few cabling challenges as extensions are often needed while clutter isn't easily hidden from view, and the dedicated rear radiator chamber is another intriguing design choice. This rear section does a good job of hiding I/O cables - they need to pass through a cutout in the back panel to be connected - however it can be a bit of a nuisance if you ever want to access the rear ports quickly.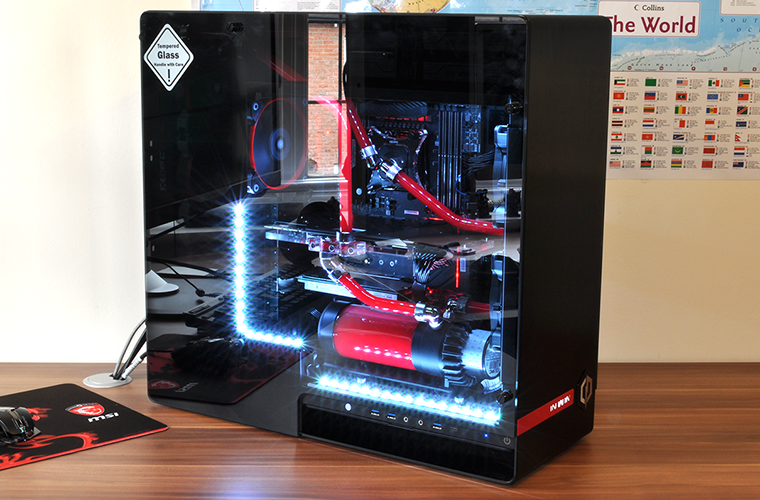 Remote-controlled Deepcool RGB 360 LEDs add even more bling, though given the choice we'd probably relocate the strips deeper inside the build - they're arguably too bright when placed so close to the glass and completely overpower the built-in lighting above the I/O ports. This is nonetheless a great-looking machine, but were you expecting more hardware for your money? In the past, such sums usually returned multiple GPUs, yet the Luxe Xtreme is testament to the soaring cost of today's top-tier components.
In Win's chassis alone fetches £300, MSI's graphics card is around £800 (a bargain compared to the upcoming Titan X), and what about Intel's 10-core CPU? Call it £1,500. Add-in the SSD, the motherboard and all those liquid-cooling accoutrements, plus Windows 10, and you're looking at a total outlay of nearly £4,000.
Cyberpower is charging in the region of a 10 per cent premium for a stress-tested build, a guaranteed overclock and a three-year warranty that includes free collect and return in the first month and parts cover for the first two years. UK-based cover is well worth having on a premium machine such as this, and Cyberpower has a good range of warranty options - the silver plan, with free collect-and-return for a full 12 months, seems a reasonable upgrade at £19. A few pounds here or there are likely to be of little concern to the target audience, so let's move on to what really matters - performance.