Introduction
Is PC gaming dead or is it on the rebound? That's a debate that never grows old, but PC game revenue appears healthy, and as we head deeper into 2016, a number of big-name manufacturers are looking to cement their place in the eSports arena.
The likes of Lenovo, Asus and Acer, who between them are estimated to have produced a staggering 35 per cent of all PCs shipped in 2015, are all making a big push in terms of gaming PC and hardware. For Acer, this move is realised beneath the Predator umbrella, a sub-brand comprised of high-end gaming desktops, laptops, tablets and monitors.
Having already examined an impressive Predator monitor, we are today turning our attention to a desktop counterpart in the form of the Predator G6-710. Priced at £1,500 and described as an "unstoppable war machine," the Predator G6 is a meaty-looking base unit that doesn't shy away.
Standing 470mm tall and 530mm deep, Acer's mid-tower chassis is dressed to impress, yet as is the case with most gaming hardware, the design will elicit either a love-it or hate-it reaction, with little room in between. Whichever way you react, the Predator G6 design is interesting insofar as it provides genuine insight into the strategy of one of the world's biggest PC manufacturers. We imagine the R&D budget wasn't small, and with more analysis than most system builders care to contemplate, the Predator chassis is Acer's interpretation of what PC gamers want.
The Transformer-like aesthetic isn't our cup of tea, though we do appreciate the fact that Acer has attempted to streamline its plastic front fascia with some nifty additions. See the three rows lining the upper half of the front bulge? The top row flips down to reveal the underlying DVD writer, the second row flips down to reveal a hot-swappable hard-disk bay, and the third row is home to the I/O ports. These include an SD card reader, dual USB 3.0 and a pair of audio jacks, as well as a 'headset cradle' that pulls out to serve as a resting place for your headphones.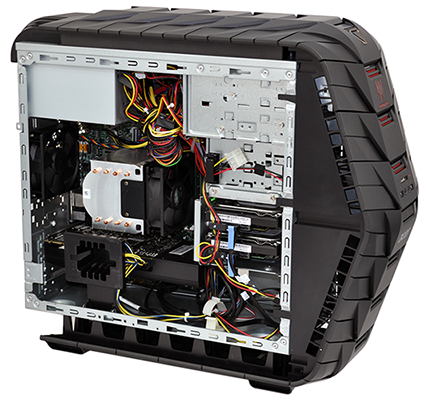 A solid enough start, but it's when you delve deeper into the Predator's construction that you begin to bemoan the lack of imagination or innovation. The sheer bulk of the plastic accents becomes apparent when you see the actual size of the underlying steel chassis, and at this price point, it's both surprising and disappointing to find that the entire chassis isn't painted black.
Acer perhaps isn't expecting users to venture into the chassis on a frequent basis - doing so entails removing the plastic rear surround and undoing a couple of screws - but more could have been done to prevent the interior from looking quite so dated. The multi-coloured cabling is far from pretty, and on a modern build it's somewhat unusual to find the graphics card at the bottom and the 750W power supply at the top.
The components look older than they are, as there's actually a good wealth of modern technology lying beneath the Predator's hood. Under the Cooler Master heatsink is an Intel Core i7-6700K processor, graphics are provided by an Nvidia GeForce GTX 970 and storage options are plentiful. Our review sample came equipped with a 512GB Kingston SSD, a pair of 2TB Seagate hard disks, as well as a 1TB Seagate hard disk in the hot-swap bay. It's nice to have so much space, yet the SSD and a single 5TB hard disk would suffice.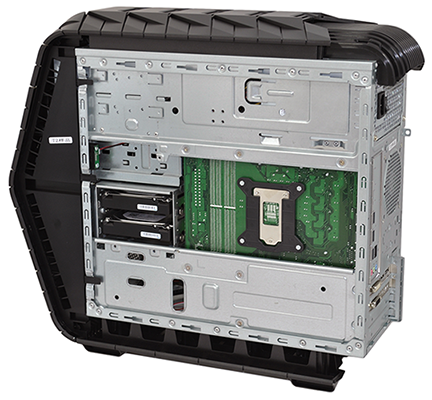 There's also some ambiguity with regards to actual retail specification. Acer's Predator G6 web page simply states that "specifications vary depending on region and model," and it appears as though the onus is on retailers to highlight regional variations. Acer's press office didn't have a UK review model at the time of writing, and though we're told the storage configuration in this machine mirrors what's available at retail, we haven't found a single UK store selling a Predator G6 with a 512GB SSD and 5TB of additional storage.
Similarly, our review sample came equipped with a whopping 64GB of DDR4 memory in a 4x16GB configuration. UK models of the G6-710 will instead offer 12GB of DDR4 (presumably in a 3x4GB setup) and we've removed two our four modules to get closer aligned to real-world performance.
This feeling of perplexity runs deep throughout the Predator G6 specification. A GeForce GTX 970 feels disproportionate at this price point, and if you were expecting a fancy cooling arrangement, you'll be disappointed to find that Acer's 'IceTunnel' is comprised of just two small fans. That's one 92mm blower on the CPU heatsink, and another serving as a rear exhaust. Neither is particularly quiet, and both feel like a missed opportunity on a PC of this size.
Various external LEDs - dubbed 'Growl Lights' - aren't enough to detract from the internal shortcomings, yet while the Predator G6 isn't the centrepiece we were hoping for, there are some positive signs. The addition of Wireless AC connectivity is a genuine value-add, we appreciate the fact that there's hardly any bloatware, the hot-swap hard-disk bay is useful and the 'Turbo' button on the front of the case is very handy indeed.
Hit the switch and the system's Core i7-6700K processor is instantly overclocked from a maximum speed of 4.2GHz to 4.6GHz across all four cores. A neat trick, and it's helpful that the overclock can be applied without having to restart the machine. Acer does have some good ideas here, however it's hard to shake the feeling that the Predator G6 is a tentative first step into the world of high-end gaming desktops.