Introduction
The UK's best system integrators are making a push for small-form-factor gaming PCs. Scan Computers, Chillblast and DinoPC have recently sent in their wares and it's now Cyberpower's turn to go under the spotlight with the Zeus Mini Evo.
Priced from £999 for a Core i5 configuration with GeForce GTX 970 graphics, Cyberpower's rig boldly claims to redefine the small-form-factor desktop space by employing a custom Zeus Mini chassis that isn't available off the shelf.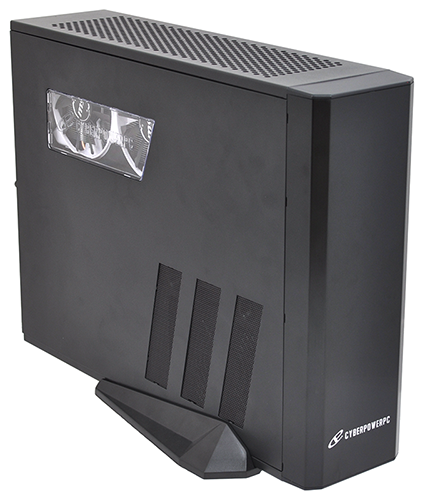 The unique enclosure gives Cyberpower's machine an air of exclusivity over much of the competition, and the form factor is both petite and somewhat quirky. Measuring 342mm (H) x 112mm (W) x 445mm in size, the chassis has the feel of a traditional tower that has passed beneath a compactor. Zeus Mini Evo is strangely thin, though the low-fat design does have its benefits - you can get away with keeping the PC on top of your desk, and if it ends up going underneath you won't be sacrificing much leg room.
Building into the svelte frame must be tricky and the fingerprints showing up in our photographs suggest that Cyberpower's system engineers had their work cut out. Still, it's a tidy-looking piece of kit and though build quality isn't as good as some of the larger enclosures - the power button feels sticky and the side panels are a bit thin - the metal structure is solid enough and the brushed front fascia is a nice touch.
Knowledgeable readers will note that the Zeus Mini has been around for a while, and the changes for the Evo revision appear minimal. The most obvious at first glance is the addition of a small side window that's positioned specifically to show off the graphics card. It's backlit for added effect, though on the flip side the attached cables mean the side panel now needs to be removed with a little extra care.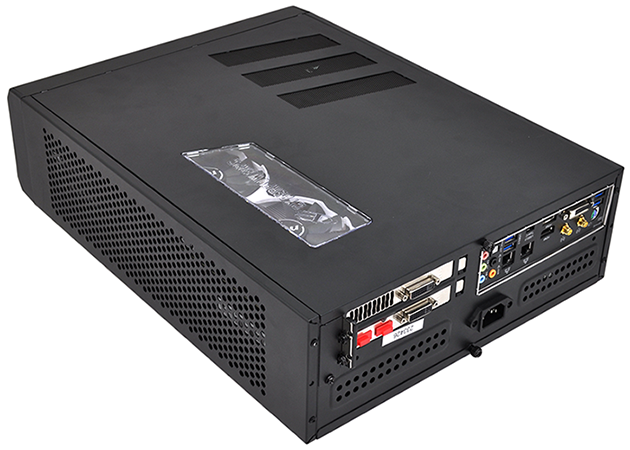 Given the machine's thin profile, we had hoped it would offer a choice of orientation, but the manufacturer advises against laying the machine flat. Doing so would block some of the various mesh vents, and if it's a horizontal system you're after, Cyberpower does have an alternative dubbed Syber.
Zeus Mini Evo is strictly designed to stand vertical and ships with a plastic stand for a little extra stability. The bundled base works well enough but slots freely onto the bottom of the chassis and with no grips doesn't prevent the PC from moving back and forth within the stand. There are also no rubber pads on the underside, so on a smooth surface the system is prone to movement when you attempt to plug in a USB stick.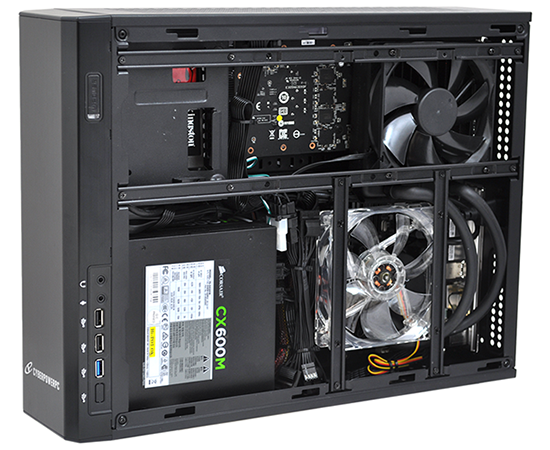 The front I/O ports are positioned along the right edge and include a pair of audio jacks and three USB ports. Only one of the front USB ports is of the SuperSpeed 3.0 variety and a potential fourth is blanked off, however you do get a further four USB 3.0 ports around back, as well as latest-generation USB Type-C.
There are going to be caveats with a gaming rig as thin as this, yet Cyberpower does well to ensure that underlying performance isn't necessarily one of them. Undoing a thumb screw allows the side panel to come away and reveal a busy interior that's brimming with high-performance hardware.
In the bottom corner, behind one of five internal fans, lies a Gigabyte Z170N-WiFi motherboard outfitted with 16GB (2x8GB) of Corsair Vengeance LPX DDR4-2666 memory and an Intel Core i5-6600K processor. Despite tight confines the 'Skylake' CPU is overclocked to 4.2GHz by default and is tamed by a Corsair Hydro Series H55 liquid cooler.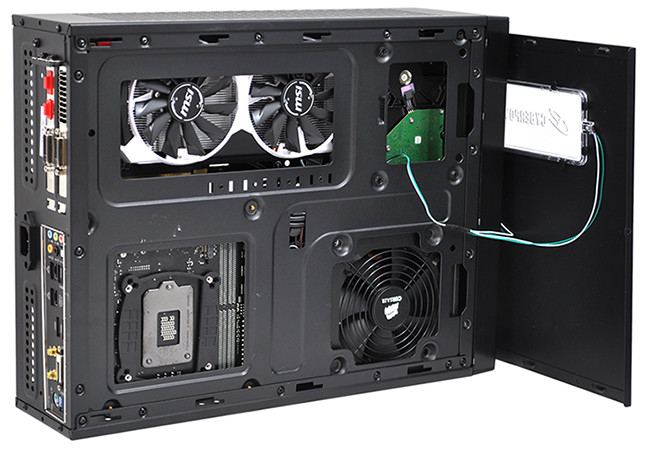 The powerful CPU and memory combination is joined by a full-size MSI GeForce GTX 970 Armor OC graphics card, and it's worth noting that an array of Nvidia or AMD graphics options are available via Cyberpower's online configurator. The core components are befitting a £999 build however the default storage configuration leaves something to be desired.
As standard Cyberpower installs a paltry 120GB Kingston V300 SSD as well as a 1TB hard disk for secondary storage. We're surprised to find that high-speed PCIe drives aren't available as an option, and you might be reluctant to install such a drive yourself as the M.2 slot is located on the back of the motherboard where it can't easily be got at.
And maintenance is arguably one of the biggest challenges that would-be buyers will face. While Cyberpower has kept cable management reasonably tidy, getting access to the components isn't easy. The graphics card in our review machine had come away from the angled PCIe riser card during transport, and plugging it back in wasn't easy. We can only imagine how awkward, say, a power supply replacement would be, but these are compromises you expect from a SFF machine and the standard three-year warranty does provide peace of mind.