Introduction
System integrators are always on the lookout for new ways of standing out from the crowd, and what better way to differentiate than with an eye-catching chassis? Deepcool's awesome-looking Tristellar certainly fits the bill, and Cyberpower is one of the first to adopt the unique enclosure as part of its Trinity range of gaming base units.
Priced from £1,049 and available in a choice of Intel or AMD configurations, the Trinity systems offer many of the usual hardware options but do so in a form factor that's a) different to the norm and b) guaranteed to turn heads.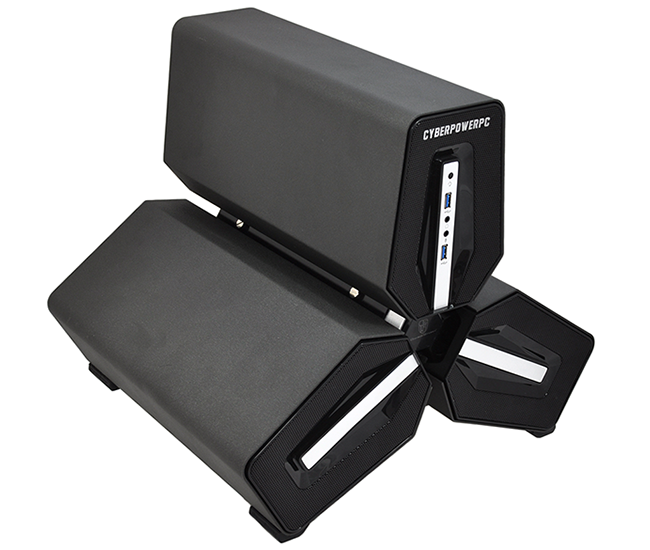 It looks fantastic, wouldn't you agree? There's definitely a sci-fi feel about the chassis - it would look right at home in an episode of Battlestar Galactica - and we suspect Cyberpower will sell plenty of units based on looks alone. Yet while Deepcool's Tristellar is up there with In Win's transforming H-Tower as one of the most intriguing enclosures we've seen in recent years, you might be wondering what's it actually like to live with.
Attempting to be functional as well as enticing, Tristellar is split into three 'cabins,' one for a graphics card measuring up to 320mm in length, another for a mini-ITX motherboard, and the third for power supply and storage. Connecting the three cabins together is a hollow, hexagonal aluminium spine that neatly allows cables to pass from one section to the next while also doubling as a backlit power button at the front end.
The arrangement works surprisingly well, and in separating the hot-running components, the theory is that the system should run suitably cool at all times. Indeed, the chassis itself is equipped with only a single fan - a 92mm intake attached to the front of the graphics-card cabin - while a pair of unfiltered vents on the chassis' base enable airflow to the CPU and PSU sections.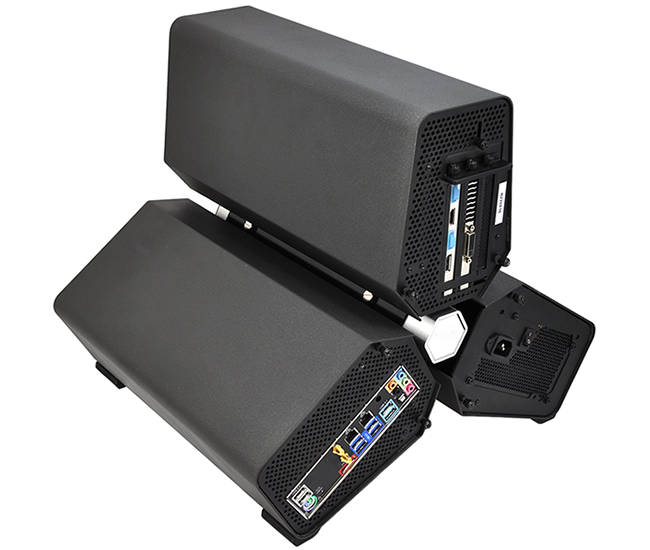 But of course, a case as quirky as this is going to come with restrictions, and these are evident in every cabin. The graphics card section is hooked-up via a short PCIe extension cable, however there's only a single PCIe interface so you'll never be privy to SLI or CrossFire expansion, and water-cooled cards such as Fury X are out of the question. The motherboard cabin is restricted to mini-ITX, and for your CPU you'll either need a low-profile air cooler or a 120mm radiator. And finally, the third cabin has a maximum PSU length of 160mm, ruling out some of today's high-end units.
Careful component selection is key, and Cyberpower has done a good job of installing some seriously powerful hardware into our Trinity 300 review sample. This is the second-best offering in the Trinity range and fetches a jaw-dropping £1,999.
For two grand, Cyberpower equips the system with an ASRock X99E-ITX/ac motherboard, a hexa-core Core i7-5820K processor overclocked to 4GHz, a Cooler Master Seidon 120 liquid cooler and a reference-cooled, mildly overclocked MSI GeForce GTX 980 graphics card (model 4GD5 OCV1). Filling in the gaps, DDR4 memory is provided by 16GB (2x8GB) of Kingston HyperX Fury, power is provided by a 600W Cooler Master supply and storage is taken care of by a 250GB Samsung 850 Evo SSD as well as a 2TB Seagate hard disk.
Undoing half-a-dozen thumb screws and removing the full-metal casings provides a better look at the internal layout. We can see a trio of 2.5in SSD bays housed alongside the graphics card, while the PSU bay has dual 3.5in hard disk trays sandwiching a slot for an optional slimline optical drive. Choosing to install the latter would neatly replace one of the silver strips on the chassis' front face, though you'd ideally want a silver drive to maintain the overall aesthetic.
Cyberpower's implementation is neat and tidy throughout, however the system's unusual chassis does raise a couple other question marks. Firstly, each cabin's metal shroud weighs over 3kg, and they combine to make the system inordinately heavy. Secondly, for what's essentially a mini-ITX PC, the Trinity 300 is by no means small. In fact, it measures 395mm (L) x 435mm (W) x 388mm (H) in size, making it one of the largest PCs to ever hold a mini-ITX motherboard.
And then there's the most obvious hurdle: the £1,999 price tag. For that amount of money, you really do expect GTX 980 Ti graphics at the very least, and if you prioritise performance, you'll know that a more traditional build would offer more bang for your buck. With Trinity 300, you pay a premium for the unique enclosure. Want to try saving a few bob by building a similar machine of your own? Deepcool's chassis alone will set you back a cool £500.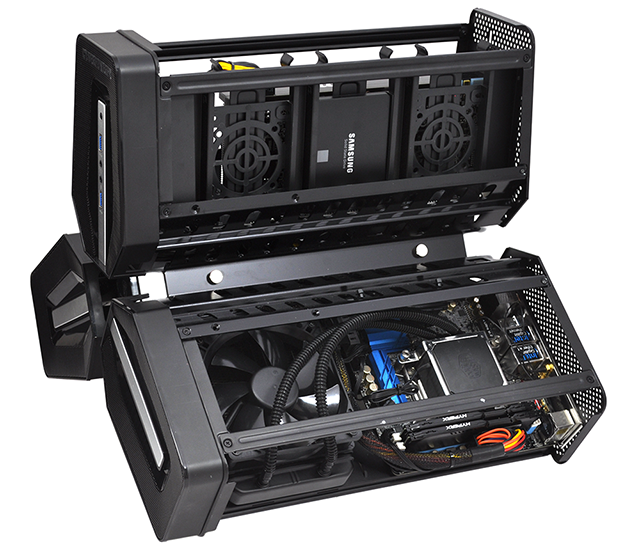 The good news for gamers who aren't enamoured with Intel's X99 platform is that Cyberpower does have a slightly cheaper Z97 variant. The Trinity 200 makes use of a Gigabyte Z97 motherboard and when equipped with, say, a Core i5-4690K processor and GeForce GTX 980 Ti graphics, would shave a couple of hundred pounds off the asking price of the X99-based Trinity 300.
There were always going to be trade-offs with a system as unorthodox as this, but none thus far can be considered deal breakers. Let's now see if performance and cooling are up to scratch.